Pro16MM
Vintage Camera Effect for FCPX
Create the hip or retro film that you always wanted to with PRO16MM by Pixel Film Studios. This collection of 40 professionally made old film effects for Final Cut Pro X allows you to add moving textures and color burns to your film to give it that aggressive or vintage look. Simply drag-and-drop the effect you want on your footage and adjust the settings to your liking.
Film Distortion Effects with Pro16MM in Final Cut Pro X
---
30 Old Film Filters for FCPX
From scratches and burns to drips and water damage, Pro16MM has every damaged film look you could ever want in Final Cut Pro X. With 30 filters to choose from and customization options, you can make the grungy masterpiece you always wanted.
---
10 Different Film Frames
Complete the old school look by adding a film frame to your image. Then use the customization controls to change the blend mode, shake, flicker, angle, and color of your frame in the Final Cut Pro X Inspector. Mix, match, and stack frames and filters to make new and exciting looks in your project.
---
From Vintage to Grunge in FCPX
Whether you are making a video of your kid's birthday party or a grungy skater video, Pro16MM can give your film the look you are going for in Final Cut Pro X. Simply change the blend mode, color, contrast, and saturation and watch as your film goes from vintage to grunge in front of your eyes.
---
Designed for FCPX
Pro16MM was professionally created to work seamlessly with FCPX. Instantly customize your settings in the FCPX Inspector and see the changes appear on your image in real-time. Pro16MM is a powerful plugin that will completely change the look of your footage.

Learn how to Install Plugins
.
.
.
.

.
.

.
.

.
.
Additional Information:.
.
How to name motion template folders: Click Here for a Video Tutorial.
.

.
Pro16MM Tutorial for Final Cut Pro X
Learn how to create and customize your very own film distortion effects with the Pro16MM Lesson.
---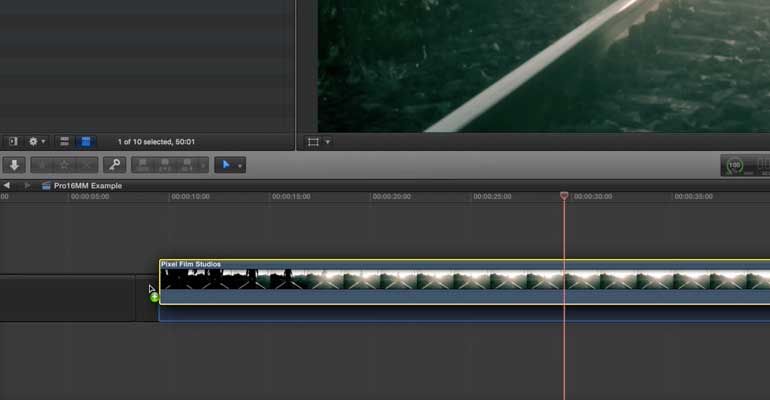 Preparing The Timeline
Let's begin by selecting our media from the FCPX Media library and dragging it to the timeline. Then locate Pro16MM in the effects library. Browse through the film frame and filter presets. For this example we will be using the film frame 4 preset. Drag and drop the preset on top of your media. Select your media and go to the Inspector Window.
---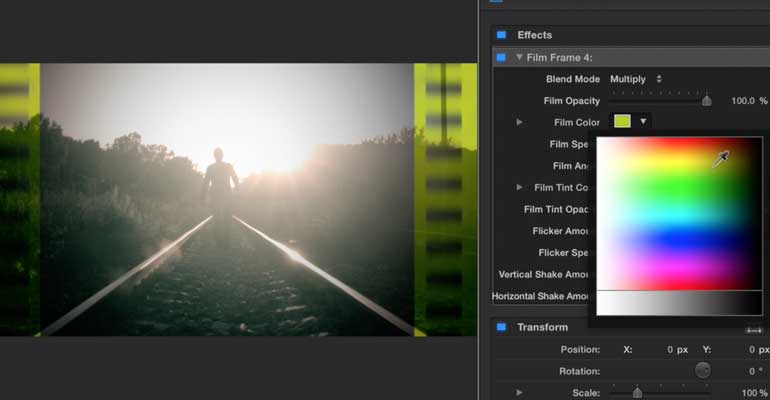 Film Frame Effects
Let's start by choosing a blend mode. After adjust the film opacity and select a film color. Then adjust the film speed and film angle. Next select a film tint color and adjust the film tint opacity. Once you have the tint color looking the way you want it begin adjusting the flicker amount and flicker speed. Lastly you can adjust the vertical and horizontal shake amount by altering the designated sliders.
---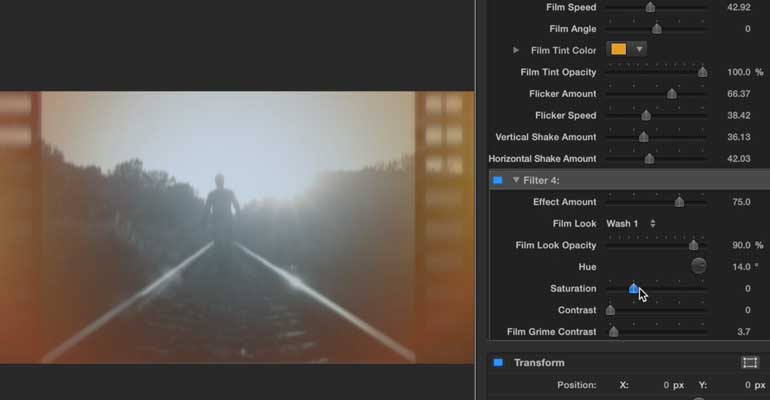 Final Touches
Now for some final touches. After you have your Frame adjusted to your liking you can then add a filter. Go down to the PRO16MM effects and select a filter from the filters section. For this example we will be using the Filter 3 preset. Click and drag the preset onto your media, Then go up to the inspector window. Start by adjusting the effect amount slider. This slider will determine how intense the filter preset will show up on your media. Then select a film look. Underneath you can adjust the opacity of you film look selection. Next continue on by adjusting the hue, saturation and contrast of your adjustments. Once those adjustments are made you can begin adjusting the film grime contrast.
Pro16MM Frequently Asked Questions
---
Where do I find Pro16MM?
Once the installation is complete, you can find Pro16MM in the FCPX Title and Effect libraries.