Installer Say It's Damaged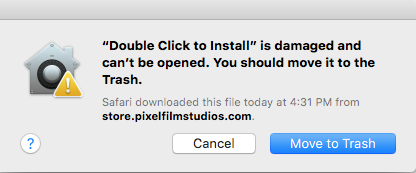 Step 1 – Download to your internal drive
This error means that the plugin is either located on an incorrect drive or that it did not finish downloading correctly. Please make sure that your plugin is downloaded to your internal hard drive and that you are running the installer from an internal hard drive. Please also make sure your connection to the internet is stable during the download.
Step 2 – Unzip using Archive Utility
Make sure to unzip the plugin download using Archive Utility. This unzipping software is default on Apple computers but some users do download other unzipping applications.
Step 3 – Download with another Browser
If you are having an issue downloading the plugin reset your internet connection and try downloading the plugin with a different browser.
If your installer issue is not resolved after attempting each of the steps above please submit a ticket or contact our live chat during business hours using the chat icon on the lower right side of the screen.