FCPX3D Abstract
3D Particle System Generators
Create an abstract shape animation with FCPX3D: Abstract from Pixel Film Studios. With FCPX3D: Abstract users can distort and manipulate three-dimensional shapes with ease all within Final Cut Pro X. Users have total control over size, position, rotation, columns, rows, ranks, point, lines, polygons, polygon texture animation, twist, camera controls, and more leaving room for endless possibilities.
3D Object Tools with FCPX3D: Abstract in Final Cut Pro X
---
3D Abstract Particle Generators
With FCPX3D: Abstract user have total control over color, size, position, rotation, columns, rows, ranks, points, lines, line distance, polygons, polygon texture, displacement axis, opacity texture, texture displacement twist, angle of view, blur type, and more all within Final Cut Pro X.
---
Texture Displacement & More
Users have total control over texure displacement, polygon texture, polygon texture opacity, and more with a click of a mouse. With FCPX3D: Abstract users can distort a 3D shape or obj with a selection of displacements or drop zone. Users can apply a displacement to alter the polygon color, polygon opacity, or shape as a whole. With FCPX3D: Abstract users have the option of displacing in the x, y, z, or spherical manner with full control over the displacement manner leaving room for endless possibilities all within Final Cut Pro X.
---
Box, Sphere, or OBJ
With FCPX3D: Abstract users have the option of selecting from a box, sphere, or obj file of their own. With total control over displacement in three-dimensional space the possibilities are truly endless. With FCPX3D: Abstract users can artistically generate a displacement with full control over overall look and feel all within Final Cut Pro X.
---
Designed for Final Cut Pro X
FCPX3D: Abstract was professionally designed to work seamlessly inside of Final Cut Pro X. As a FCPX generator, each FCPX3D: Abstract preset can be dragged and dropped onto the users media, or presented by itself in real time. With the published parameters found in the FCPX inspector, users have the ability to make further adjustments with just a few clicks of a mouse.

Learn how to Install Plugins
.
.
.
.

.
.

.
.

.
.
Additional Information:.
.
How to name motion template folders: Click Here for a Video Tutorial.
.

.
FCPX3D: Abstract Tutorial for Final Cut Pro X
Learn how to create and customize Abstract Particle System Generators with the FCPX3D: Abstract Lesson.
---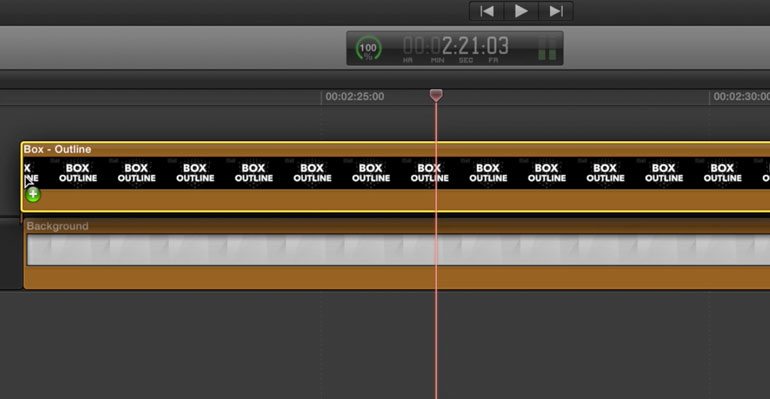 STEP 1 - Preparing The Timeline
Let's begin by locating FCPX 3D Abstract in the Generators library. Browse through the variety of displacements and generator presets. For this example we will be using the Box Outline preset. Click and drag the generator to your Timeline. Select the generator and go to the Inspector window.
---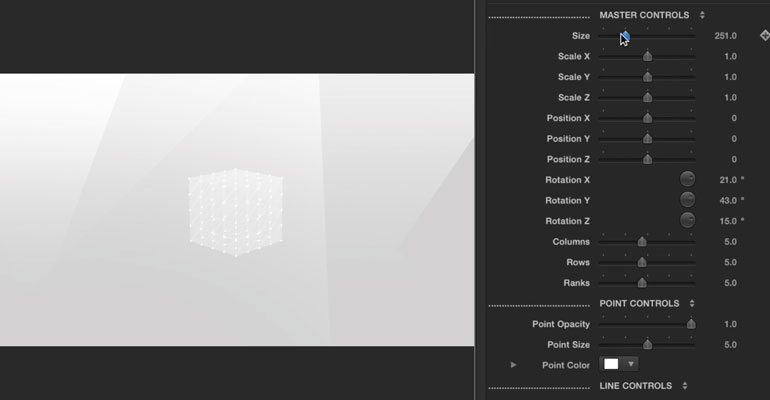 STEP 2 - Master Controls
First let's start by adjusting the parameters in the Master Controls section. Begin by adjusting the size, scale, position, and scale. It is recommended that the scale adjustments be left at 1 but you can make the adjustments if you needed too. After you have the position and rotation adjustments set go on to adjusting the columns, rows, and ranks. Think of these three sliders as x, y, and z. The Columns slider adjusts the number of lines within x space. The rows slider adjusts the number of rows within z space and Ranks adjust the number of points within y space. Now that we have the master controls section adjusted let's move on to the Point Controls Section.
---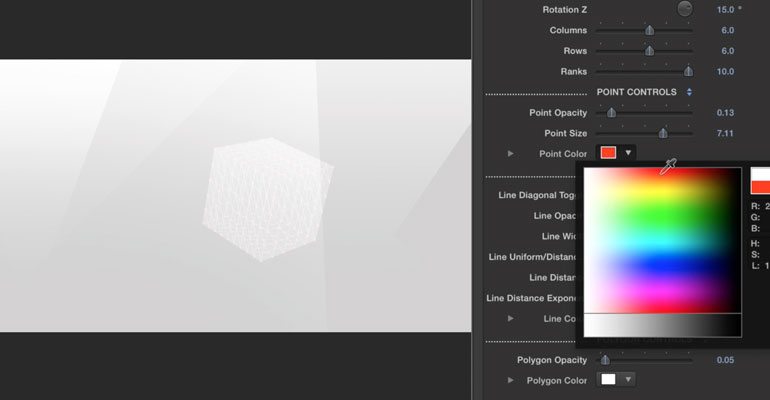 STEP 3 - Point Controls
In this section you can adjust the point opacity, point size and point color.
---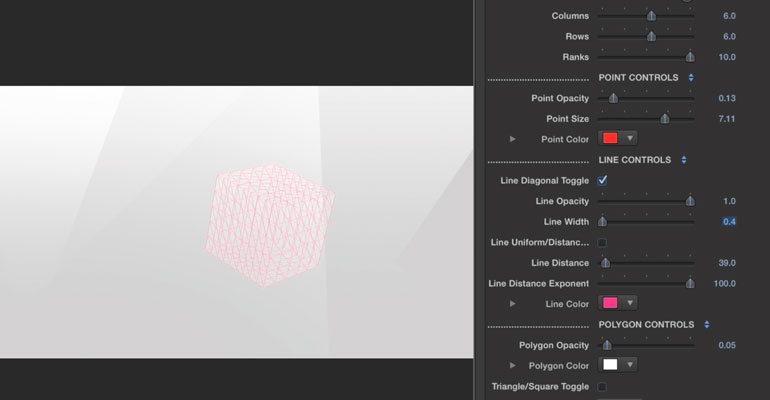 STEP 4 - Line Controls
Next continue on down to the Line Controls section. Start by adjusting the Line Opacity and Line Width sliders. The Line opacity slider will not make any changes when the Line Uniform check box underneath is selected. When the Line Uniform Check box is selected it means that each line in your box is equal in opacity and width. It also means that you can adjust the line distance and Line Distance exponent sliders. When the Line Uniform check is unchecked the line opacity slider will be activated and the both line distance sliders will be deactivated. After making those adjustments you can then select a Line Color.
---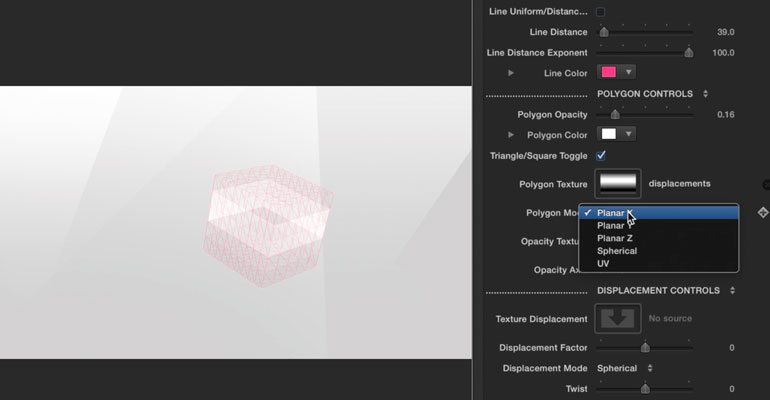 STEP 5 - Polygon Controls
Once you have the Line Controls adjusted you can move on to the Polygon Controls. This section is where you can start adding displacements and O-B-J' s. An O-B-J is a 3D graphics file. Before you start adding a displacement to the drop zone you must first drag them to the timeline and make it a compound clip. You can make a compound clip by right clicking on the displacement media and selecting New Compound Clip. Now that your displacement is a compound clip you can add it to the drop zones. Select the drop zone icon Then click on your displacement media. Select apply clip in the lower right hand corner of the viewer window. Repeat those same steps when adding to the opacity texture drop zone.
---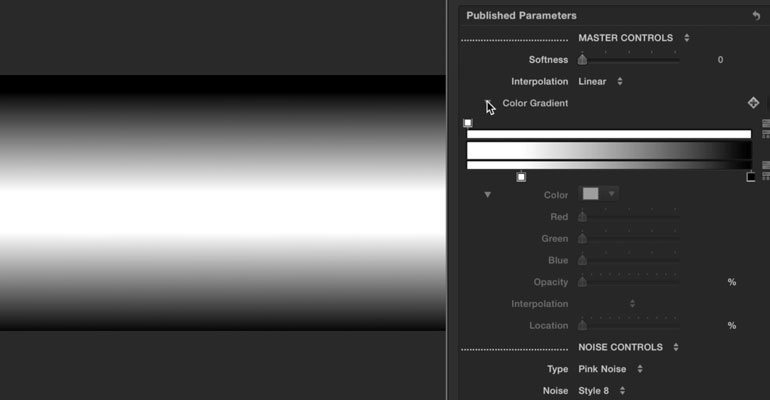 STEP 6 - Selecting & Altering Displacements
Let's take a step back from the Polygon Controls and talk a little bit more about the displacement generators. Each displacement generator that you choose has their own controls so you will never get the same look twice. FCPX 3D Abstract allows users to import their own displacement media to add more variety to their project. You can also choose multiple displacements and stack generators to get different looks. Another way to get different looks is to cycle through the different noise styles. If you turn the noise amount down your shape will take on the displacement movement. You can go back at anytime and alter your adjustments you made previously by double clicking on the compounded displacement clip. Now let's go back to the polygon controls. Once you have the displacements set you can then adjust the polygon opacity and polygon color. The Triangle/Square Toggle Checkbox when selected will change the polygon texture from triangle to square. Underneath Polygon Texture and Opacity Texture you have the option to choose where and how the polygon color will show up in your shape.
---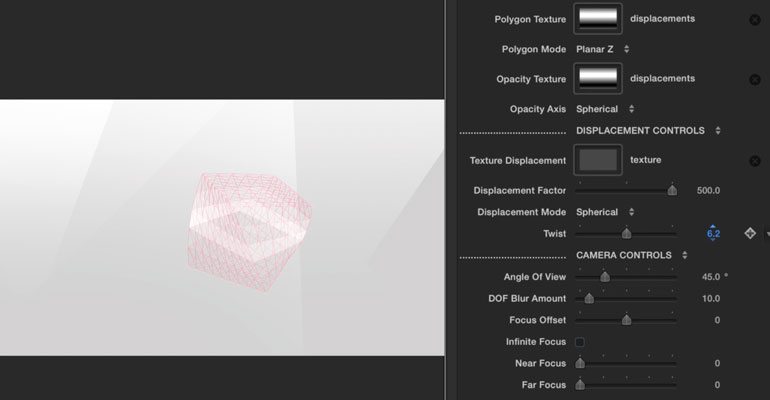 STEP 7 - Displacement Controls
After making the final adjustments in the Polygon Controls section continue down to the Displacement Controls section. Begin by choosing a Texture Displacement. Then go on to adjusting the Displacement Factor slider. The closer the Displacement Factor slider is to 0 the less displacement there will be. For Example negative displacement will go inward and positive displacement will go outward. Next choose a displacement mode and adjust the twist slider.
---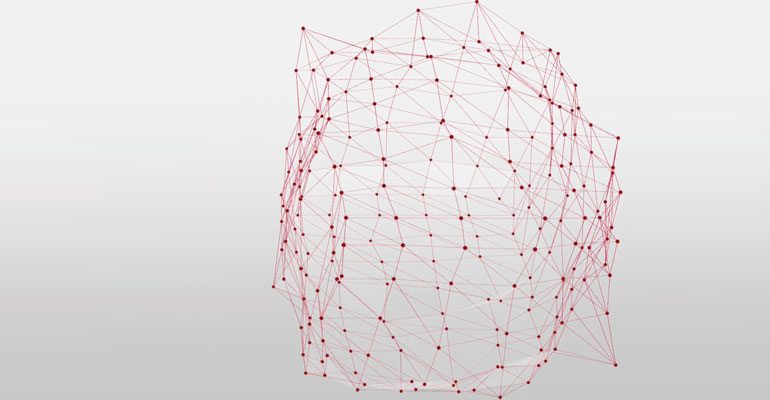 Final Touches
Now for some Final Touches. Adjust the Camera Controls sliders to get different perspectives of your 3D shape to make it visually mesmerizing to your targeted audience.
FCPX3D: Abstract Frequently Asked Questions
---
Where do I find FCPX3D: Abstract?
Once the installation is complete, you can find FCPX3D: Abstract in the FCPX Generator library.