Projection
3D Projection Mapping for FCPX
Final Cut Pro X users can bring their 2D images to life with Projection from Pixel Film Studios. This plugin allows editors to map a photo of an alley, hallway or room onto a 3D environment in FCPX. Projection also gives users the ability to add text, logos, or keyed footage to their 3D room.
This plugin requires Final Cut Pro 10.4 or higher and Mac OS 10.13 or higher. Mac Mini and Macbook Air computers with Intel graphics cards are not compatible with this plugin.
3D Projection Mapping Tools with Projection in Final Cut Pro X
.
.
From 2D to 3D in FCPX
Projection allows FCPX users to project a 2D image onto a 3D room. Then with a 3D camera, editors can pan, tilt, and dolly around their environment to observer it from unique and interesting perspectives. Projection is a great tool for turning a stagnant photo into a fun and engaging journey.
.
.
Control the Environment
FCPX editors can take total control of their environment. With easy-to-use sliders and controls, they can adjust the depth, width, and height of their room. Then, by grabbing the on-screen controls, users can manipulate the position and rotation of the perspective lines.
.
.
Add Text or Keyed Footage
Projection is a powerful tool that can help editors create 3D title sequences quickly in Final Cut Pro X. With designated presets, users can add logos, text, or keyed footage to their scene that can interact with their environment in 3D space.
.
.
Designed for Final Cut Pro X
Projection was professionally designed by the team at Pixel Film Studios for FCPX. As an FCPX generator, this tool can be dragged-and-dropped onto the timeline and filled with a still image. Projection also contains easy-to-use controls built into the Final Cut Pro X Inspector that allow users to customize their environment quickly.

Learn how to Install Plugins
.
.
.
.

.
.

.
.

.
.
Additional Information:.
.
How to name motion template folders: Click Here for a Video Tutorial.
.

.
Projection Tutorial for Final Cut Pro X
Learn how to bring your 2D images to life with the Projection Lesson.
.

.
.

.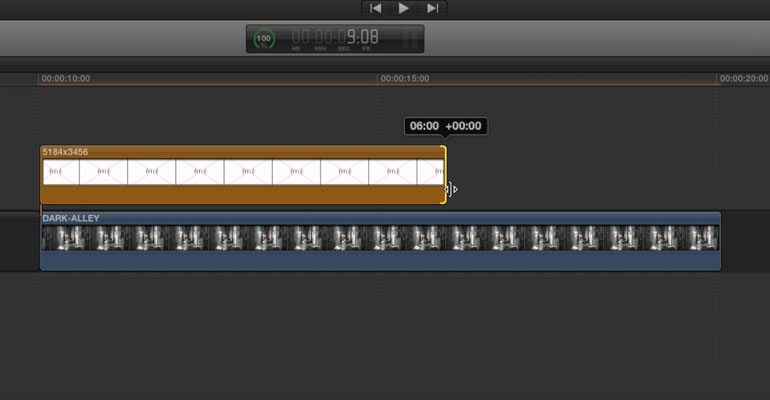 Step 1 - Preparing the Timeline
Let's begin by selecting an image in the FCPX media library and dragging it to the timeline. For this example, we will use an image of a dark alley. Scan through the Projection presets in the FCPX Generators Library. Click and drag the one that matches your photo's size into the timeline above your photo. For this example, we are creating a title sequence, so we will use a "Projection with Text" Preset.
.

.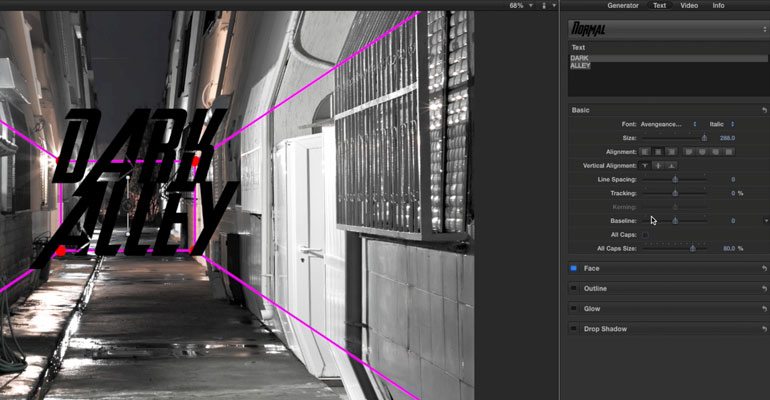 Step 2 - Setting up the PROJECTION
Now, let's setup our Projection generator. Select the generator in the timeline. Then, go to the FCPX Inspector Window and click on the Drop Zone icon. Select your image in the timeline, and click the blue "Apply Clip" button in the FCPX Viewer window. Once your image is inside the ProJection, add your text to the scene.
.

.
Step 3 - Creating the Perspective
Now, it's time to setup our perspective lines. Go to the FCPX Inspector Window. Set the "Angle of View" in the Camera Controls to . Now, go to the "Box Controls" section. Use the Height, Width and Depth settings to adjust the shape of the box to match the alley. Then, use the on-screen controls in the Viewer window to adjust where the near and far plane sit. When you are done, you can uncheck the Guidelines checkbox to turn them off.
.

.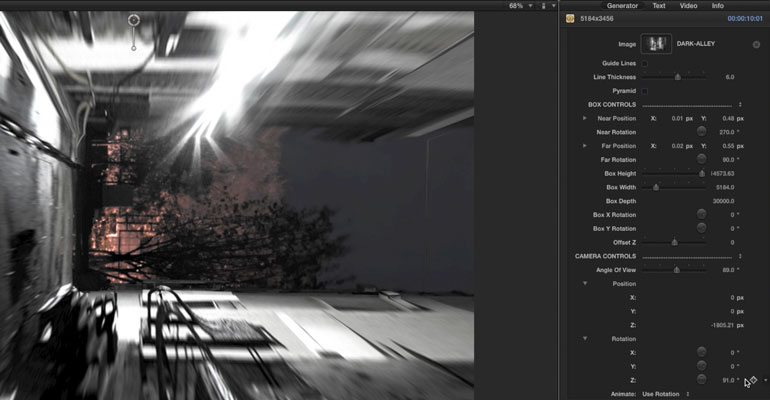 Step 4 - Animating the Camera
Now, let's animate our 3D camera. Place the playhead at the front of the Projection generator. Go to the "Camera Controls" section of the Inspector Window. Now, move and rotate the camera to where you want it to start. Then, place a keyframe on the camera position and rotation parameters. Move the playhead down the timeline to where you want the animation to end. Now change the values of the position and rotation parameters. Because these values are different than the previous frame … It will auto-keyframe them in Final Cut Pro X.
.

.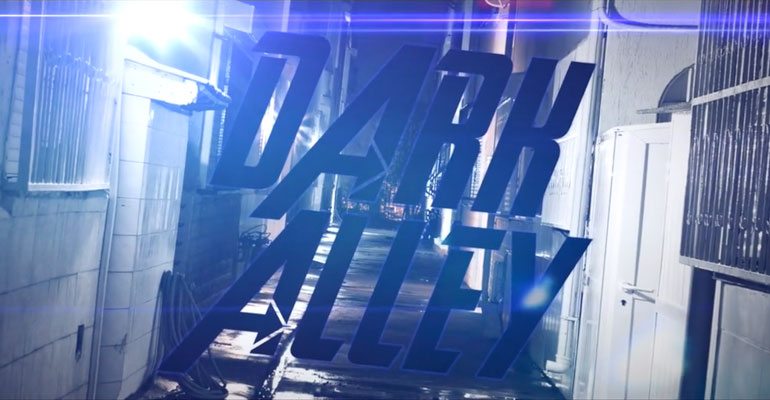 Final Touches
Now for some Final Touches. To further enhance the realism of the scene… let's add a few Pixel Film Studios effects to our environment. For this example, we will apply a ProStreak and ProHue filter to the generator. Then, we will add a ProAna lens flare above the generator and keyframe it to react to one of the light sources.

Frequently Asked Questions
.
.
Where do I find this Plugin Inside FCPX? 
.
.
.
.
.
How do I apply this plugin?
.

Minimum Requirements
.
.
Component:                                   Requirement:
..
Final Cut Pro:                                   10.4
..
..
macOS:                                            10.13
..
..
Graphics Card:                                 2 GB
..
..
Ram:                                                 8 GB
..
Example Requirements Below
..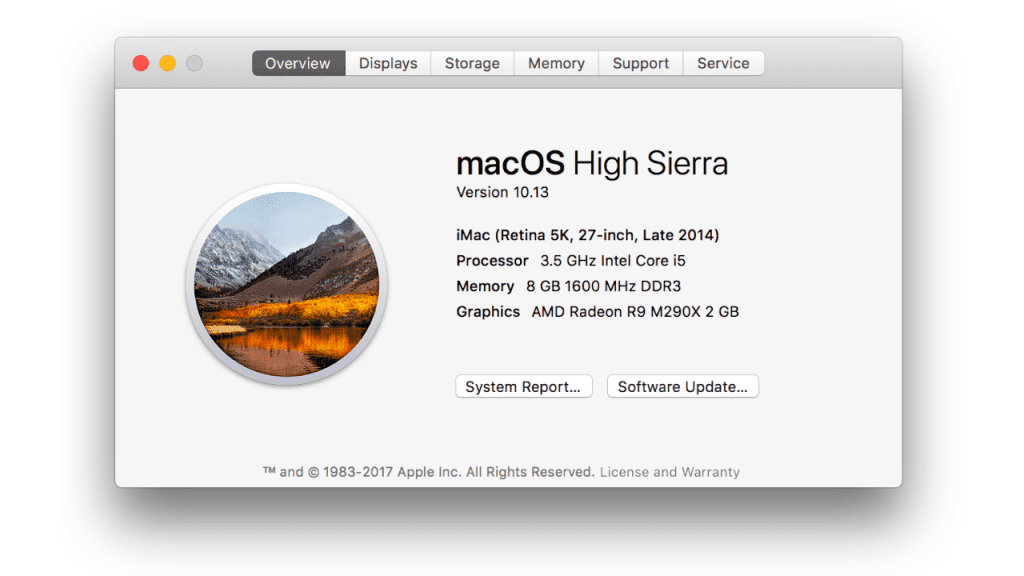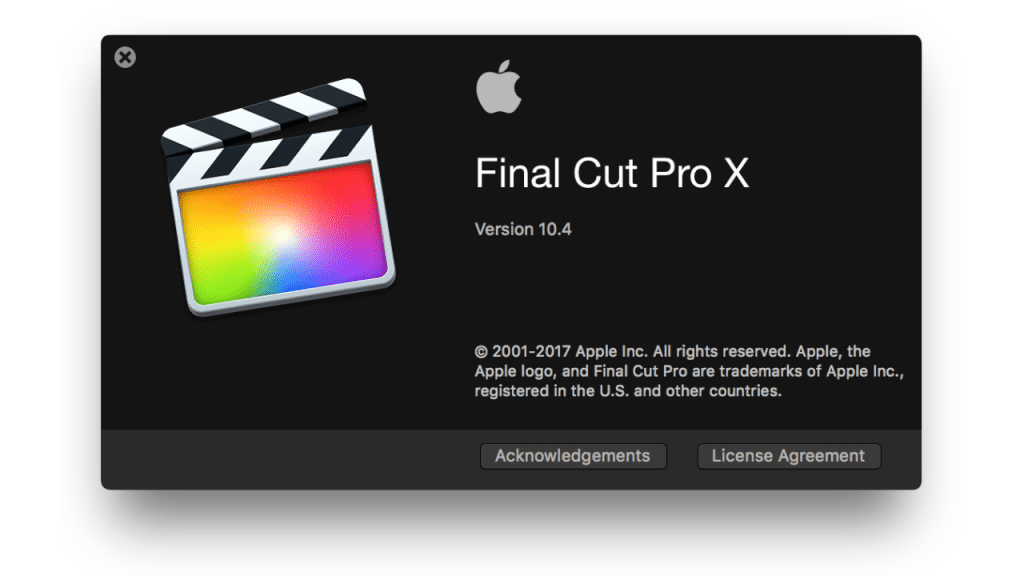 ..
.
Plugin Running Slow? Follow These Steps

.
.

.

Troubleshooting
.

.
.

.
.

.
.