Sorry, this product cannot be purchased.
ProSnow
Snow Effects and Cooling Grades
Adding snow to your film is a great way to provoke a childhood response out of your viewers. With ProSnow: Volume 1 from Pixel Film Studios, you can choose from 30 different snow methods and cooling grades to turn your footage into a Winter wonderland.
Composites & Elements with ProSnow: Volume 1 in Final Cut Pro X
---
Snow in Cinema
As long as film as been an art form, snow has been used to evoke the mood and feel of a scene. From Citizen Kane to It's a Wonderful Lifeto Home Alone, snow can elicit childhood memories and happiness. Conversely, in movies like Fargo or The Shining, snow can also be used to create drama and make characters seem cold and trapped. With PROSNOW from Pixel Film Studios you can create these moods in your scenes in Final Cut Pro X.
---
Let It Snow!
With ProSnow: Volume 1's 30 unique snow composites to choose from, you can take your footage anywhere from the first snow flakes of the year to a heavy snow storm in the click of a button.  All 30 of the snow effects were created with real snow footage; ProSnow: Volume 1 contains no digitally generated images.
---
30 Cooling Grades
Have footage of kids playing in the snow? Use one of the light and soft cooling grade from ProSnow: Volume 1 to help convey their happiness. With the 30 cooling presets in ProSnow: Volume 1 for Final Cut Pro X, you can create any mood for any snow scene. Simply scrub through the ProSnow: Volume 1 plugins in the effects browser and choose the grade that best works with your footage.
---
Designed for Final Cut Pro X
Designed to work inside Final Cut Pro X, ProSnow: Volume 1 eliminates the need to composite footage or create your own color grades. Simply take command of the weather with ProSnow: Volume 1 using its easy and powerful controls in the FCPX Inspector.

Learn how to Install Plugins
.
.
.
.

.
.

.
.

.
.
Additional Information:.
.
How to name motion template folders: Click Here for a Video Tutorial.
.

.
ProSnow: Volume 1 Tutorial for Final Cut Pro X
Learn how to create and customize your very own snow effects with the ProSnow: Volume 1 Lesson.
---
STEP 1 - Preparing The Timeline
Let's begin by selecting our footage from the FCPX media library and dragging it to the timeline. Then locating ProSnow Volume 1 in the Generators library. Browse through the variety of snow presets. For this example we will be using the Master Snow preset. Click and drag the preset above your media in the Timeline. Select preset and go to the inspector window.
---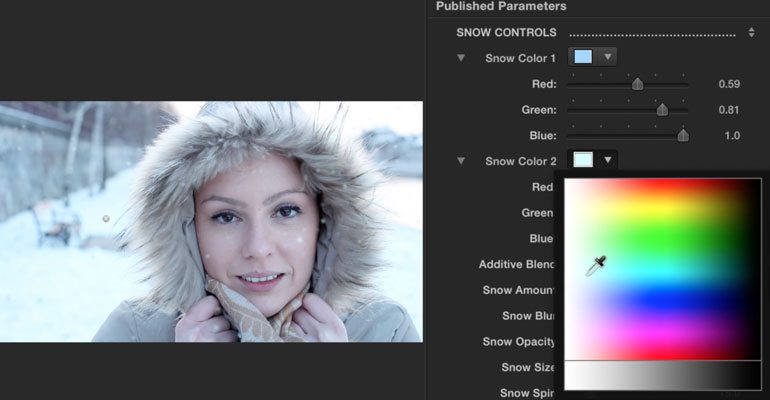 STEP 2 - Snow Controls
Start by choosing colors for Snow color 1 and 2. Underneath is the Additive Blend mode check box. When the check box is selected it will add a subtle glow to the snowflakes. Next you can adjust the snow amount, snow blur, and snow opacity. After making those adjustments you can go on to controlling the snow size and snow spin. If you do not make these individual adjustments yourself simply click the generate button which will randomize each slider you previously adjusted.
---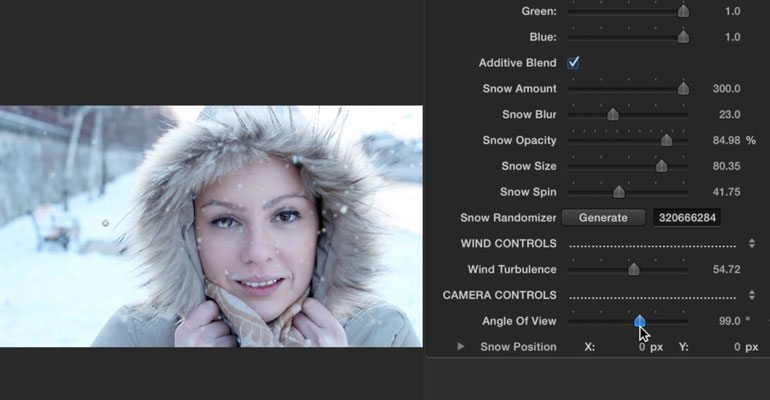 Final Touches
Now for some final touches. Once you have your snow controls adjusted to your liking you can move down to the Wind Controls Section where you can control the wind turbulence. The Wind Turbulence slider will control how fast the snowflakes will be moving. Next continue on down to the Camera Controls Section where you will be able to adjust the angle of view slider and snow position. The Angle of View slider will change the camera's perspective of the snowflakes. For example moving the slider to the left will move you in towards the snowflakes getting rid of any depth. By moving the slider to the right will move you away from the snowflakes allowing you to create depth. Lastly is the snow position. You can control position in the inspector window or you can use the on screen controls in the viewer window. Click and drag the center control puck in any direction to position the snowflakes.
ProSnow: Volume 1 Frequently Asked Questions
---
Where do I find ProSnow: Volume 1?
Once the installation is complete, you can find ProSnow: Volume 1 in the FCPX Effect library.

Minimum Requirements
.
.
Component:                                   Requirement:
..
Final Cut Pro:                                   10.4.2
..
..
macOS:                                            10.13
..
..
Graphics Card:                                 2 GB
..
..
Ram:                                                 8 GB