ProSnow 5K
Professional 5K Snow Composites
Prosnow™ 5K from Pixel Film Studios™ brings video editors and film makers new ultra high definition snow elements and composites. With 35 different styles, all rendered in 5k resolution for the ultimate clarity and detail, Prosnow™ 5K will surely add those snow elements any film needs!
Composites & Elements with ProSnow: 5K in Final Cut Pro X
---
Snow For Any Project
ProSnow:5K are snow composites for any non-linear video editing software. These composites can be used in Avid, Abode, and Final Cut Pro X with some simple compositing methods, and can be applied to any scene.
---
5K Snow
ProSnow: 5K are 5k composites that allow for scaling up in HD without signal loss, or can be applied to 4k for ultimate clarity and realism.
---
Over 35 Presets
ProSnow™: 5k comes with over 35 presets which can be stacked for multiple different looks. Simply apply it to the editing timeline above the desired clip, apply simple compositing methods and thats it. Multiple styles of snow are included included chaotic windy snow.
---
Includes FCPX Editing Tools
ProSnow: 5K comes with intuitive and simple FCPX editing tools that assist film makers in correct scaling, color correction, and placement. Applying snow to clips has never been easier and time-saving in Final Cut Pro X.

Learn how to Install Plugins
.
.
.
.

.
.

.
.

.
.
Additional Information:.
.
How to name motion template folders: Click Here for a Video Tutorial.
.

.
ProSnow: 5K Tutorial for Final Cut Pro X
Learn how to take professional 5k snow composites to the next level with the ProSnow: 5K
---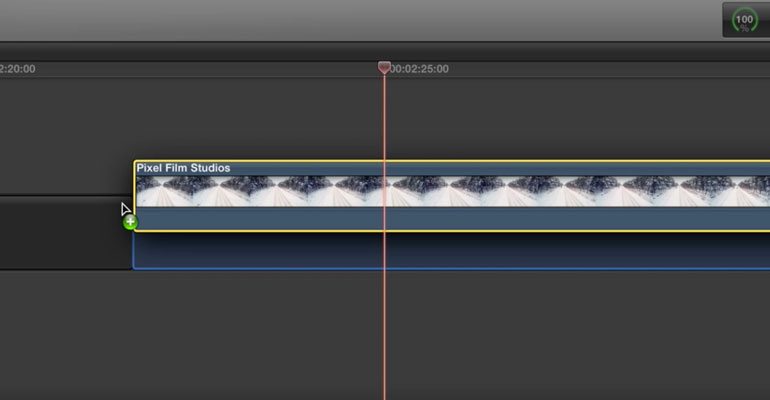 STEP 1 - Preparing The Timeline
Let's begin by selecting our footage from the FCPX media library and dragging it to the timeline. Then locating ProSnow 5k in the Effects library. You will have a 4k Prosnow tool and a HD Prosnow tool. For this example we will be using the HD ProSnow preset tool. Click and drag the preset directly on top of your media in the Timeline. Select your media and go to the inspector window.
---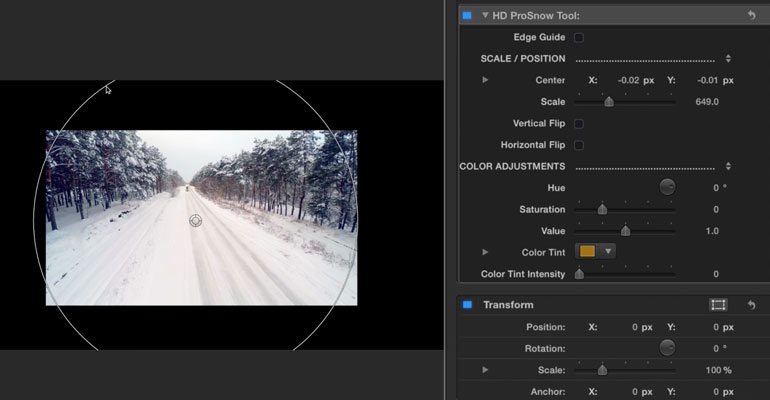 STEP 2 - Scale & Position Controls
First is the Edge Guide check box which gives you a visual guide of the area you are working in. This can be turned on or off at anytime. In the Scale/ Position section you can control the center, scale and orientation of your media. You can control the center and scale in the viewer window if you do not want to use the controls in the inspector window. Click and drag the center control puck in any direction to position your media. Adjust the scale by click and dragging the outside of the circle. You have the option of flipping your media vertical or horizontal by simply checking the desired check box.
---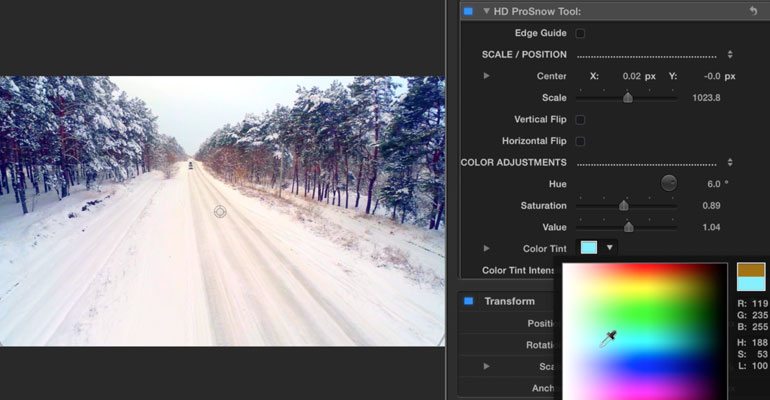 STEP 3 - Color Adjustments
Once you have the Scale and Position adjustments set continue on with the Color Adjustments controls. Start by adjusting the hue and saturation. Rotate the adjustment wheel next to hue to cycle through different hue colors. Next you can adjust the value slider which controls the intensity of your hue and saturation adjustments. Lastly select a color tint and adjust it's intensity.
---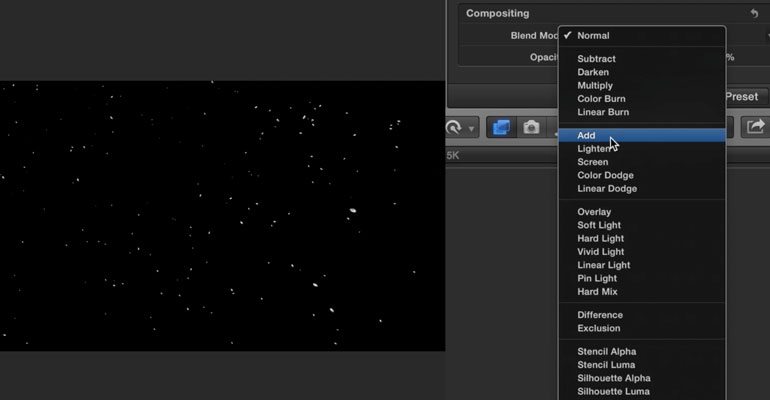 Final Touches
Now for some Final Touches. If you haven't already added your composite footage you can do so by dragging it to the timeline from the FCPX media library. Place the composite footage over your original media. Select the composite footage and go to the inspector window. Go down to the compositing section and cycle through the different blend modes. The best modes to choose from range from "Add" to "Linear Dodge".
ProSnow: 5K Frequently Asked Questions
---
Where do I find ProSnow: 5K?
Once the installation is complete, you can find ProSnow: 5K in the FCPX Effect library.