Prolaroid
Vintage Photo Effects for FCPX
Have some beach footage or a family video that needs a timeless or vintage touch? With Proloroid from Pixel Film Studios, you can easily create that popular instant photo look with any footage in Final Cut Pro X. With 30 photo looks to choose from, along with customizable frames, artifacts, and film textures, the possibilities are endless!
Color Grading with Prolaroid in Final Cut Pro X
---

30 Instant Photo FCPX Effects
Prolaroid was professionally created to imitate the look of vintage instant photography cameras, which have recently been going through a revival in pop culture. With 30 different instant camera presets to choose from, Prolaroid can give any footage the perfect photographic look.
---
Awesome Film Frames
After choosing the photo grade you like, you can easily customize the frame type, size and edge softness in the FCPX Inspector. Then with Prolaroid's on-screen control, you can adjust where in the frame your image sits.
---
Realistic Light Artifacts
Each of Prolaroid's 30 presets come with light artifact options that you can use to give your image a timeless or hip look. Simply choose the light artifact type and then adjust the intensity, brightness and hue of the light.
---
Retro-Worn Effects
Finish off your instant photo look by adding dust, dirt or scratches to your footage. Add a little to get a vintage look – add a lot to give your film a more edgy or grungy feel.
---
Designed for Final Cut Pro X
Prolaroid was professionally created by the team at Pixel Film Studios to work seamlessly with FCPX. Instantly customize your settings in the FCPX Inspector and see the changes appear on your image in real-time. Prolaroid is a powerful plugin that will completely change the look of your footage without bogging down your computer with rendering.

Learn how to Install Plugins
.
.
.
.

.
.

.
.

.
.
Additional Information:.
.
How to name motion template folders: Click Here for a Video Tutorial.
.

.
Prolaroid Tutorial for Final Cut Pro X
Turn back the clocks by customizing your very own professional instant photo effects from the Prolaroid Lesson.
---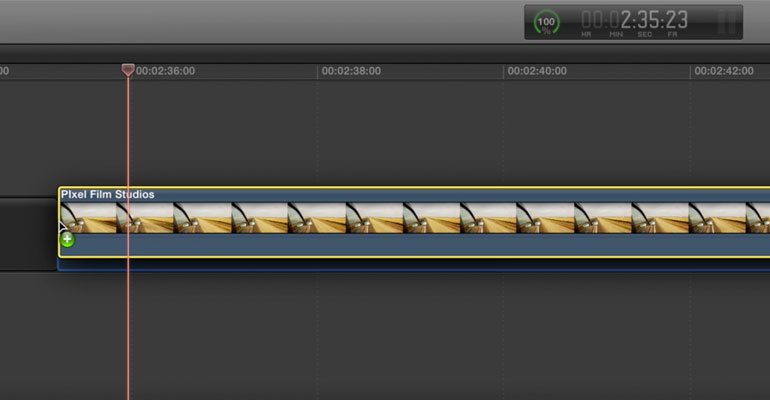 STEP 1 - Preparing The Timeline
Let's begin by selecting our footage from the FCPX media library and dragging it to the timeline. Then locating Prolaroid in the Effects library. Browse through the presets and choose a style that fits for your project. For this example we will be using the Prolaroid 1 preset. Drag the preset directly on top of your media. Then Select your media and go to the inspector window.
---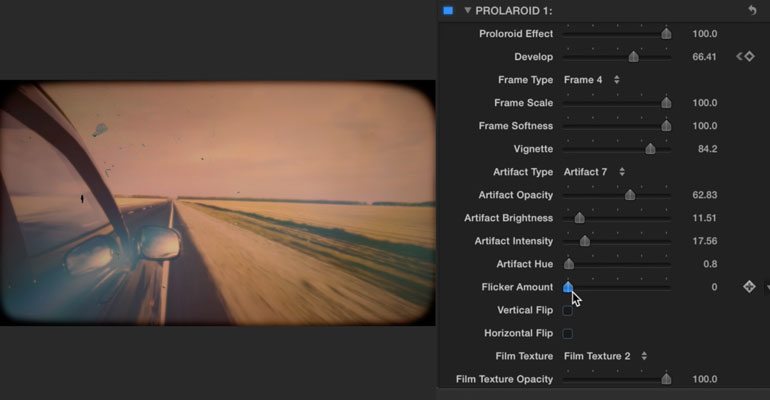 STEP 2 - Effect Controls
Once you have the timeline set up begin adjusting the Prolaroid effect and develop slider. The Prolaroid effect slider adjust the opacity of the proloroid preset you have chosen. By moving the develop slider to the left to give the illusion that your photo is undeveloped but the more you move the slider to the right it will develop as a real photo would. If you want to give the visual of your footage developing real time you can key frame it. To do this set the develop slider to a position you want the development to being. Go to the beginning of your media, Select the keyframe icon then drag your playhead to a spot in your media you would like it to be fully developed. You can adjust the keyframes by right clicking on your media and selecting "show video animation". Back in the inspector window, Continue altering the preset by choosing a Frame Type. You have 4 different frame options to choose from. If you do not want a frame select "none". After making those adjustments move on to customizing the Frame Scale, Frame Softness and vignette. Underneath is the Artifact Type which come with a variety of different styles to choose from. Once you have an Artifact Type selected you can start by adjusting it's opacity then move on brightness, intensity and hue. Now that your Artifact is customized to your liking we can move on to adjusting the flicker amount slider. Next is the vertical flip and horizontal flip check boxes. These check boxes will be controlling your Artifact adjustments. Lastly choose from a 10 authentic film texture's. Once you have chosen your film texture you can adjust it's opacity.
---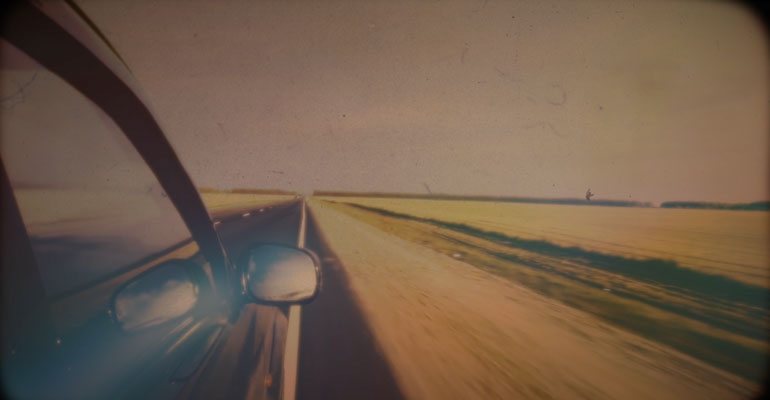 Finished Example
Prolaroid's options are truly endless with the variety of presets which are fully customizable all inside Final Cut Pro X.
Prolaroid Frequently Asked Questions
---
Where do I find Prolaroid?
Once the installation is complete, you can find Prolaroid in the FCPX effects library.
Troubleshooting Prolaroid
---
I am getting a Red Screen with a Yellow Exclamation Point, how is this fixed?
This usually occurs due to either an Installation error, or its just that your FCPX version is out of date. You can upgrade, its simple and usually free in the Apple App Store. If your operating system is out of date, that may need to be updated first, in order to update the other relying software.
---
What Version of FCPX does this require?
You will need to make sure your version of the software is updated to at least version 10.2.1, and this may require an OS update, which should be available for free in the App Store.