ProText Kinetic Volume 2
Text Animations for Final Cut Pro X
ProText: Kinetic Volume 2 is a set of typography creation tools made exclusively for use in Final Cut Pro X. This dynamic set of tools allows video editors to create interactive text videos with complete control over animation speed, animation type (by character, by word, by line), and animation spread. Jump, fly, spin, rotate, fade, slide, spring, and unmask text with over 40 completely customizable text presets. Best of all, ProText Kinetic 2 requires no keyframes. Simply drag, drop, and create!
ProText: Kinetic Volume 2 requires FCPX 10.2 or newer.
Text Animations with ProText: Kinetic Volume 2 in FCPX
---
Over 40 Dynamic Presets
ProText Kinetic 2 features 40 dynamic animation presets that are ready for use in Final Cut Pro X. Choose from fading, springing, sliding, jumping, rotating, flipping, flying, and jiggling animations. Easily create interactive text videos without having to set a single keyframe with Pixel Film Studios' ProText Kinetic 2.
---
Intuitive On-Screen Controls
Using ProText Kinetic is as easy as drag and drop. Start by staggering two ProText Kinetic presets in the FCPX timeline. Playback the default animation and utilize on-screen controls to alter the position, scale, and rotation of the text and the adjustment layers below. Users can stack additional ProText Kinetic presets to create endless text animation layouts in FCPX.
---
Animate by Word, Character, or Line
ProText: Kinetic 2 comes with amazing customization options that allows FCPX users to determine exactly how text is affected by a given animation. Choose to animate a layer of text by its characters, words, or lines. Combined with the "spread" & "springiness" sliders, video editors can create endless iterations of an animation and achieve any look.

Learn how to Install Plugins
.
.
.
.

.
.

.
.

.
.
Additional Information:.
.
How to name motion template folders: Click Here for a Video Tutorial.
.

.
ProText: Kinetic Volume 2 Tutorial for Final Cut Pro X
Learn how to use a set of typography creation tools with the ProText: Kinetic Volume 2 Lesson.
---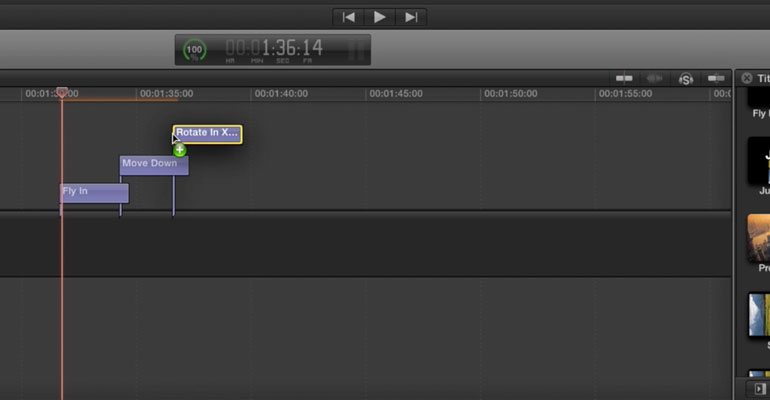 STEP 1 - Preparing the Timeline
Lets begin by locating ProText Kinetic 2 in the FCPX Titles library. For this example we will use three different animations, Which will be a Fly In, Move Left and Rotate In X CW. Click, Drag and stack each animation on top of one another in the timeline. When stacking animations make sure you give each adjustment layer time to animate. Depending on how long you want your text to be animating will determine how long you make your adjustment layer. Once you have estimated the time you want your animation to last, Click the bottom adjustment layer and go to the Inspector Window.
---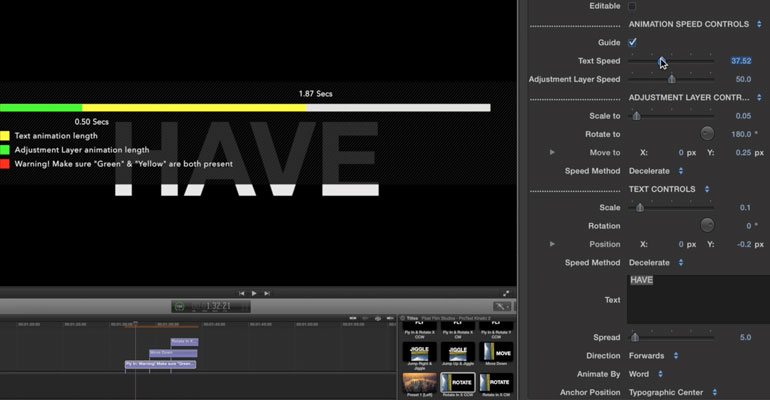 STEP 2 - Animation Speed Controls
First you will notice an unchecked box marked "Editable" Clicking this will notify you on the bottom of the viewer screen that the text to that adjustment layer is editable. This allows you to double click on that text and change it, Instead of altering it in the "text" box. Underneath that is your Animation Speed Controls Clicking the Guide check box with give you a color bar giving you a visual representation of Text animation length, Adjustment layer animation length and a warning signal when the text animation length or adjustment layer animation is not present. If you want a precise moment you want your animation to come in and out use the Text speed which is represented in yellow and Adjustment Layer Speed represented in green.
---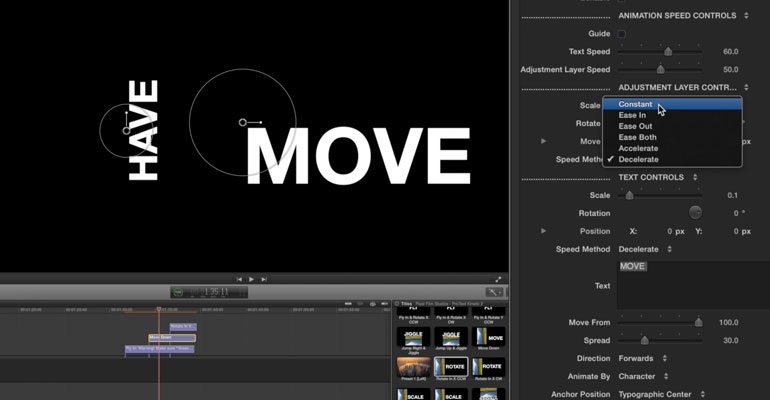 STEP 3 - Adjustment Layer Controls
Now, Let's work on our Adjustment Layer Controls Here you can control the scale, Rotation, position and speed method of your other adjustment layers that are not selected.
---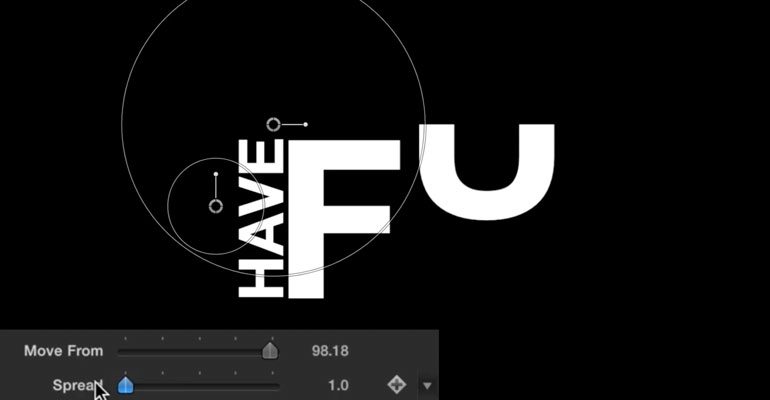 STEP 4 - Text Controls
Below is your Text Controls where you can adjust the scale, Rotation, position and speed method of your selected adjustment layer. You can also use the on screen controls in the viewer window to change position, scale, and rotation if you don't want to use the sliders in the Inspector Window. The text box allows you to change what your text says if you did not check the editable check box above. Adjusting the move from slider controls which point your text comes in. For example if your text is fairly large then you would need to adjust the slider more to the right moving the text up further so it is not seen before your animation even starts. The spread slider controls how your preset animates out depending on how many words you have for that particular preset and also what you choose your preset to animate by. Underneath you can adjust the direction your text comes in, What your text animates by and last the Anchor position.
---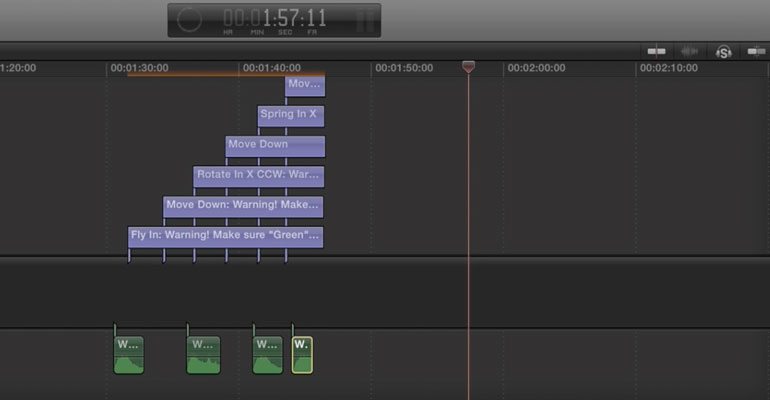 Final Touches
Add multiple animations and sound effects to make your text visually exciting.
ProText: Kinetic Volume 2 Frequently Asked Questions
---
How do I keep my background color from moving with the text?
.

.
Why is this Happening:
The plugin affects all layers beneath it.
.
What is the Solution:
Simply turn the title layers from the plugin into a compound clip, separately from the background layer. This will stop the title layers from affecting the background.
---
Where do I find ProText: Kinetic Volume 2?
Once the installation is complete, you can find ProText: Kinetic Volume 2 in the FCPX Title library.