ProWash
Color Wash Effects for FCPX
With ProWash, users can create that retro look that they have been looking for, or add a little tint of extra color to their footage. Users have total control of color opacity, blend modes to make certain colors darker or lighter, and more all with in Final Cut Pro X. With ProWash, adding that extra kick of color to change the mood or adding a light source with color has never been so fun and easy to do.
Color Grading with ProWash in Final Cut Pro X
---
 
Color Wash In FCPX
With ProWash users can add a subtle color tint or wash to their media all with in Final Cut Pro X. Users have the choice of being aggressive with loud colors, or change the mood with soft tints or color blends. ProWash gives the users the ability to be in total control over how their media tones and highlights react by adding the correct amount of that extra color to their media all with a click of a mouse.
---
Over 70 Effect Presets
ProWash offers over 70 effect presets giving the user total control over tint, tint color, wash opacity, wash color, blend modes, overall reds, overall blues, overall greens, and more. With ProWash, users can create that personal color tint and color wash with ease giving their footage a vintage, retro, or custom color wash they would like for any type of media all with in Final Cut Pro X.
---
Flare & Gradient Washes
With PROWASH the user is given 24 flares, gradient washes, and vignette wash in total. With each preset the user has control over blend mode, color, color position and opacity, width, height, intensity, and more. The user can burn each wash color into their media, or simply create their own combination of washes in any position or amount of their choosing. With PROWASH the user is in total control over colorizing their media than ever before with a click of a mouse.
---
On-Screen Controls
With ProWash's on-screen controls, the user has full control over flare position and rotation, linear gradient wash position and rotation, radial gradient wash position and rotation, and vignette position and scale. With just ProWash's easy-to-use on-screen controls, getting that perfect look has never been such fun and easy to do all with in Final Cut Pro X.
---
Designed For Final Cut Pro X
ProWash was professionally designed to work seamlessly inside of Final Cut Pro X. As a FCPX effect, each ProWash preset can be dragged and dropped onto your footage and render in real time. With controls that can be found in the FCPX inspector, with a few adjustments the user can easily find that color wash effect that best fits their footage with just a few clicks of a mouse.

Learn how to Install Plugins
.
.
.
.

.
.

.
.

.
.
Additional Information:.
.
How to name motion template folders: Click Here for a Video Tutorial.
.

.
ProWash Tutorial for Final Cut Pro X
Learn how to create and customize your own color wash effects with the ProWash.
---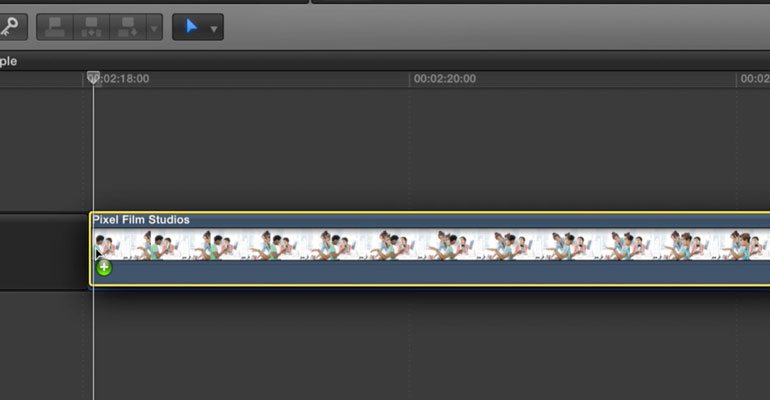 STEP 1 - Preparing the Timeline
Let's begin by selecting our footage from the FCPX media library. Then Locate ProWash in the FCPX Effects library. Scan through the color grade presets and choose a style that works best for your project. For this example we will be using the Blueberry Alfalfa preset. Click and drag the effect directly on top of your footage. Select your media and go to the Inspector Window.
---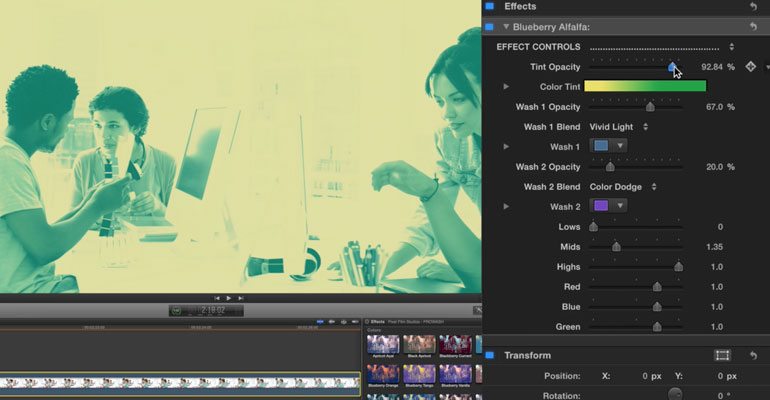 STEP 2 - Effects Controls
First let's start by adjusting the Tint opacity. After adjusting the Tint Opacity you can can adjust the color tint. This comes in the form of a color gradient bar. Begin by selecting a color for your color tint. Click any of the colored squares on the bottom of the color bar. Once you have a colored square selected you can now change the color of the color tint. There are red, green, and blue sliders along with an opacity slider for each color option so you can get the exact color you want. Underneath you have an interpolation option and a location slider. The location slider will allow you to control the coverage of each color that is present in your color tint.
---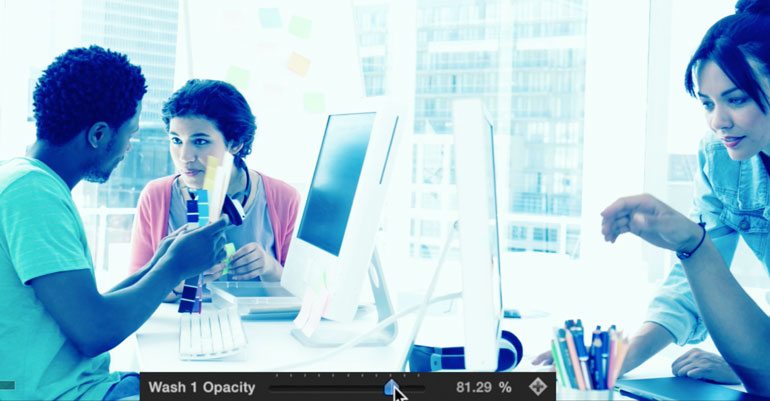 STEP 3 - Wash Controls
Next is the Wash 1 Opacity slider and Wash 1 Blend. The Wash 1 Blend allows you to choose from a number of blend modes that really give a unique look to the preset. You can then choose a color of the first wash. Once you have finished adjusting Wash 1 you can continue on to adjusting the second wash. The opacity, blend and color sliders function the same was as the Wash 1 sliders. After making the necessary adjustments you will notice the Lows, Mids and Highs sliders. These sliders control the light source in this preset. Underneath you have the Red, Green and blue sliders to adjust the light source even more.
---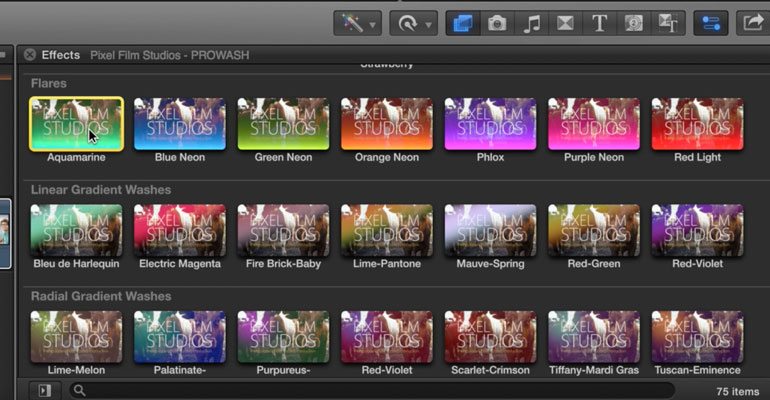 Final Touches
Now for some Final Touches. Located in the FCPX Effects library you can add a little extra to your preset. Choose from Flares, Linear Gradient Washes, Radial Gradient Washes, and Vignettes. For this example we will use the Aquamarine preset in the Flares section. Click and Drag the preset directly on top of your media. Then go to the inspector window. First adjust the opacity, position and rotation. Continue to adjust the width and height of the flare. Lastly you can control the Flare Intensity, Flare Blend Mode, and Flare Color.
ProWash Frequently Asked Questions
---
Where do I find ProWash?
Once the installation is complete, you can find ProWash in the FCPX effects library.
Troubleshooting ProWash
---
I am getting a Red Screen with a Yellow Exclamation Point, how is this fixed?
This usually occurs due to either an Installation error, or its just that your FCPX version is out of date. You can upgrade, its simple and usually free in the Apple App Store. If your operating system is out of date, that may need to be updated first, in order to update the other relying software.
---
What Version of FCPX does this require?
You will need to make sure your version of the software is updated to at least version 10.2.1, and this may require an OS update, which should be available for free in the App Store.