ProDrop Toon
Cartoon Backdrops for FCPX
ProDrop: Toon features exciting, self-animating cartoon backdrops and a variety of unique styles. Pick and choose from 30 unique designs that include cartoon skies, forests, mountains, cities and many, many more. Captivate audiences with ProDrop: Toon's amazing cartoon animations and customize scenes to achieve the perfect look for any project.
Background Generators with ProDrop: Toon in Final Cut Pro X
---
30 Unique Cartoon Styles
ProDrop: Toon features thirty designs inspired by a plethora of diverse art styles. Choose from backdrops of clouds moving in the sky, haunted houses, busy cityscapes, space landscapes and dozens of other unique scenes. Each ProDrop preset features unique customization options, allowing Final Cut Pro X users to tweak the look and feel of individual backdrops.
---
Intuitive Controls
Users can unleash their creativity by taking advantage of ProDrop: Toon's incredibly easy-to-use controls. Find sliders, checkboxes, and generate buttons that allow amazing customization in the top-right inspector window. Control the size of scene elements, their positions, how many are present, and much more using ProDrop presets. Pixel Film Studios makes amazing easy in Final Cut Pro X.
---
Amazing On-Screen Controls
In addition to inspector controls, many of the included backdrops also include on-screen controls so that the user has ultimate ease of use. Scale up and down elements just by clicking and dragging the radius of  controlled objects. Some elements may be positioned anywhere throughout the scene and rotated to get all-new perspectives.
---
Self-Animating Designs
ProDrop: Toon presets run for a total of 30 seconds, but can be shrunk or expanded to decrease or increase speed and occupy a larger space within the timeline. ProDrop is completely self-animating and allows users to utilize stunning backdrops without the annoyance of adding keyframes. Simply drag, drop, and create. Pixel Film Studios does the rest.
---
Only for Final Cut Pro X
Create beautiful toon landscapes using ProDrop: Toon's wonderful presets. Look toward the inspector window to find simple sliders, hue dials, and easy checkboxes to manipulate ProDrop: Toon presets. With so much customization in these 30 presets, Final Cut Pro X users can create an array of cartoon styles.

Learn how to Install Plugins
.
.
.
.

.
.

.
.

.
.
Additional Information:.
.
How to name motion template folders: Click Here for a Video Tutorial.
.

.
ProDrop: Toon Tutorial for Final Cut Pro X
Learn how to control exciting, self-animating cartoon backdrops with the ProDrop: Toon Lesson from Pixel Film Studios.
---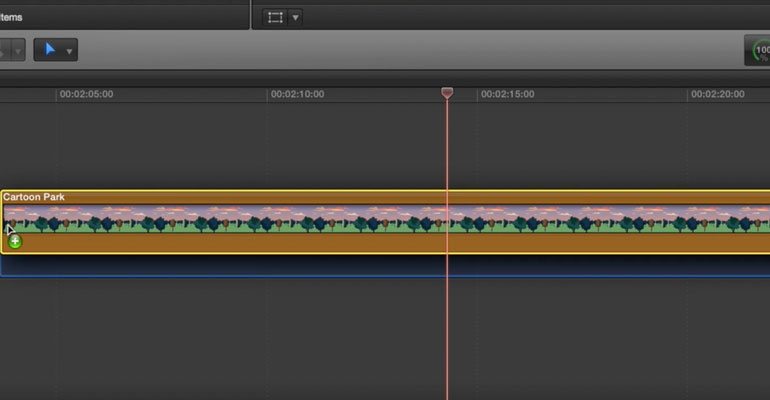 STEP 1 - Preparing the Timeline
Let's begin by locating ProDrop: Toon in the Generator Library. There are over 30 unique cartoon styles to choose from. For this example we will be using the cartoon park animation. Drag the animation to your timeline. Select the animation and go to the Inspector Window.
---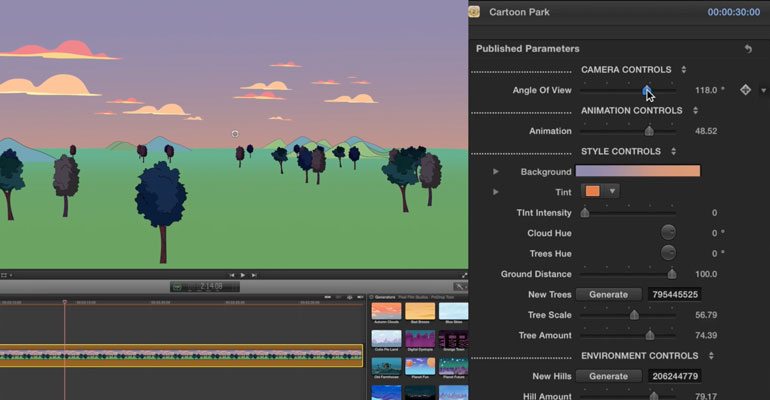 Step 2 - Camera Controls
First let's adjust our camera controls. The Angle Of View slider will adjust the perspective of your animation. For example moving the slider to the left will give more depth and by moving the slider to right will move you further into your animation. You can add more movement to your animation by key framing the angle of view slider so it seems like you are moving in or out of the forest. Next is the Animation Controls. The animation slider will control the left and right movement of your animation.
---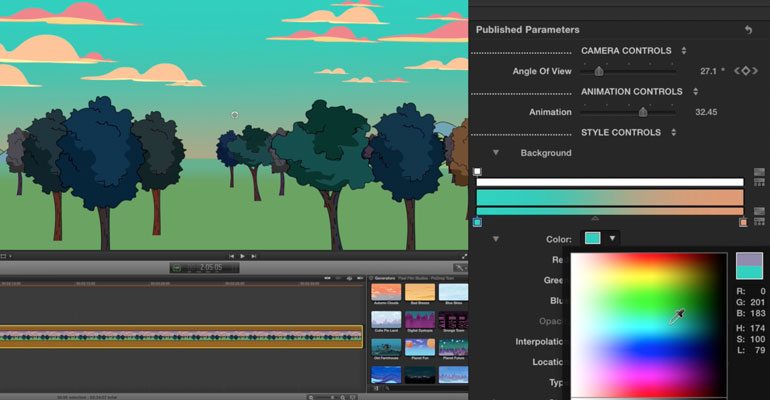 STEP 3 - Style Controls
Now Let's move onto the Style Controls section. Begin by selecting a color for the background. Click the colored square on the bottom of the color bar. Once you have the colored square selected you can now change the color of the background. There are red, green, and blue sliders along with an opacity slider so you can get the exact color you want. Underneath you have an interpolation option and a location slider. The location slider will allow you to control the coverage of each color that is present in your background. Next you have the option of changing the type of your color between linear and radial. After choosing a type you can keyframe where the color type starts and ends. Once you have your starting and ending position set up, Go on to altering the color of the tint, clouds, and trees. Now let's adjust the ground distance. By moving the slider to the right will give you more ground, While moving the slider to left will give you less ground. Hit the generate button to give you a new style of trees every time. Lastly, Adjust the tree scale and tree amount.
---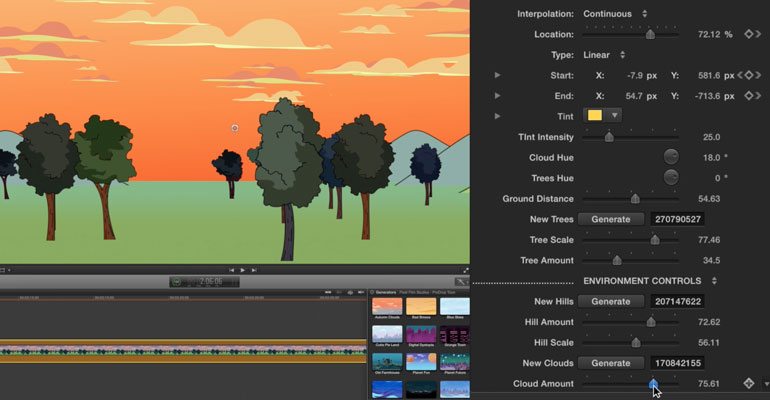 STEP 4 - Environment Controls
In the environment controls you can generate new hills, Hill amount and Hill scale. You can also generate new clouds and decide how many clouds you want by adjusting the cloud amount.