ProDrop Corporate
Corporate Backdrops for FCPX
ProDrop: Corporate comes packaged with over 40 stunning corporate backdrops designed for Final Cut Pro X. Each backdrop contains 15 seconds of unique footage that users can shrink and expand in the Final Cut Pro X timeline. Choose from a variety of corporate designs that animate in elegant and exciting ways. Customize position, size, color, speed, range, flares and many more attributes with easy-to-use controls found in the top-right inspector menu. ProDrop: Corporate is a Final Cut Pro X exclusive.
Background Generators with ProDrop: Corporate in FCPX
---
Simple Corporate Backdrops
ProDrop: Corporate contains simple designs that animate elegantly and serves as a perfect backdrop for corporate videos. Choose from simple animating patterns, shapes that travel through a 3D space, desktop-esque sheet waves, and many more amazing designs. Create a beautiful corporate video using ProDrop: Corporate.
---
Over 40 Unique Backdrops
ProDrop: Corporate allows users to select from over 40 completely customizable presets ranging from categories like colors, desktops, shapes, patterns, and miscellaneous. Users are given customization over position, scale, speed, amount, life, angle and many more attributes inside of Final Cut Pro X. The styles included are unique and can be manipulated endlessly to create even more options.
---
Completely Customizable
ProDrop: Corporate includes a variety of unique styles that contain their own personalized control sets so that each individual preset can be customized to the fullest. Utilize on-screen controls to change positions and scales, or adjust settings like speed, amount, intensity, randomization and more in the Inspector window. An Instructions Generator is also included to help answer any questions users may have about parameters.
---
Designed for Final Cut Pro X
ProDrop: Corporate was professionally designed to work seamlessly inside of Final Cut Pro X. As a generator effect, each ProDrop: Corporate preset can be dragged and dropped into the timeline and previewed in real time. With the published parameters found in the FCPX inspector, users have the ability to make further adjustments with just a few clicks of a mouse.

Learn how to Install Plugins
.
.
.
.

.
.

.
.

.
.
Additional Information:.
.
How to name motion template folders: Click Here for a Video Tutorial.
.

.
ProDrop: Corporate Tutorial for Final Cut Pro X
Learn how to customize and utilize Corporate backdrops with the ProDrop: Corporate Lesson.
---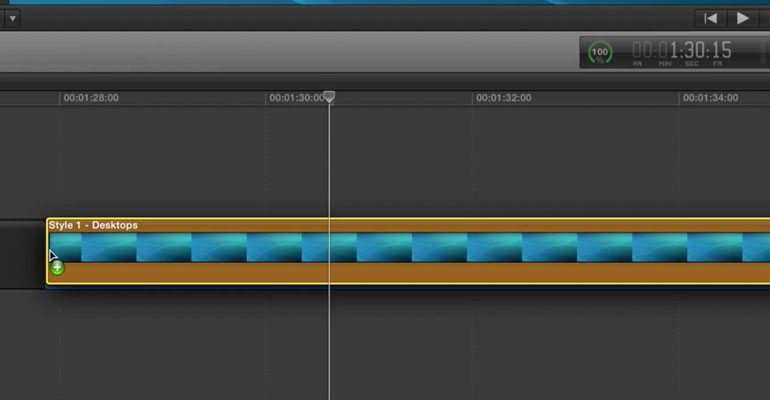 STEP 1 - Preparing the Timeline
Let's begin by locating ProDrop: Corporate in the Generator Library. There are 5 different sections with a variety of preset styles to choose from. For this example we will be using style 1 in the Desktops section. Drag the preset to your timeline. Select the animation and go to the Inspector Window.
---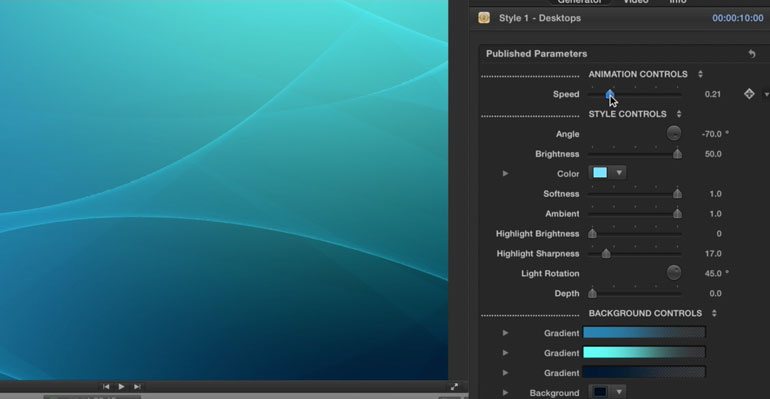 STEP 2 - Animation Controls
First start by adjusting the speed slider which will determine how fast or slow the backdrop with animate. Once you set the speed slider to an amount move on down to the Style Controls.
---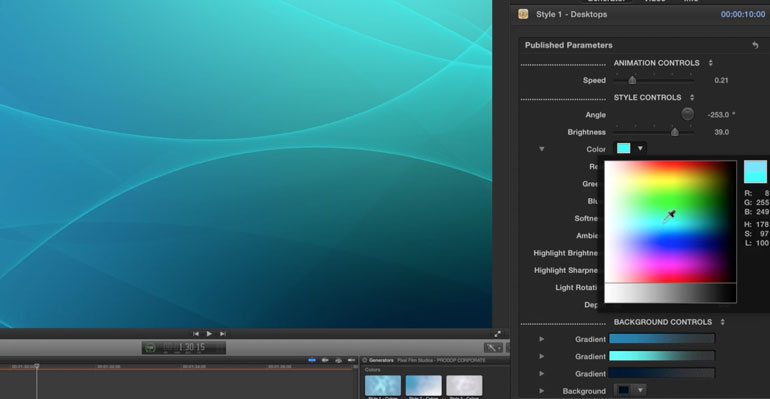 STEP 3 - Style Controls
Now let's adjust our style controls. Begin by adjusting the angle, brightness and color. After making those adjustments continue with the softness and ambient sliders. These sliders will affect the edges of the lines that are animating. Next is the Highlight brightness and sharpness sliders. The Highlight Sharpness slider starts from the edges of the lines then moves inwards. When you are finished with the Highlight sliders make your final adjustments by controlling the light rotation and depth. The Depth slider will add perspective to your animating lines getting rid of the flat look.
---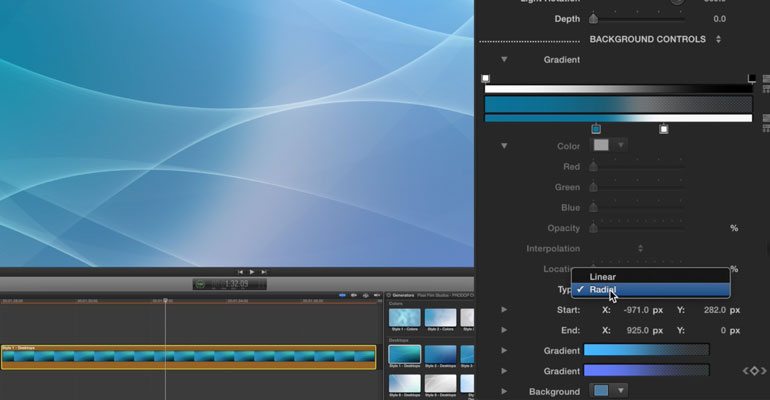 Final Touches
Now for some Final Touches. Begin by selecting a color for each gradient. Click any of the colored squares on the bottom of the color bar. Once you have a colored square selected you can now change the color of the background. There are red, green, and blue sliders along with an opacity slider for each color option so you can get the exact color you want. Underneath you have an interpolation option and a location slider. The location slider will allow you to control the coverage of each color that is present in your background. Next you have the option of changing the type of your color between linear and radial. The Linear type will give you a line and the radial type will show a circle which the color generates from. After choosing a type you can keyframe where the color type starts and ends. Lastly select a background color.
ProDrop: Corporate Frequently Asked Questions
---
Can this plugin create video in 4K?
No, this plugin is designed for HD. Our plugins that are 4K compatible will say so in the title.
---
Where do I find ProDrop: Corporate?
Once the installation is complete, you can find ProDrop: Corporate in the FCPX Generator library.