ProGrain 4K
4K Cinematic Film Grain for FCPX
Final Cut Pro X users can now give their footage the look of real celluloid film with PROGRAIN 4K from Pixel Film Studios. This collection of 20 film stock looks for Final Cut Pro X can instantly give any video a more cinematic feel. With easy to use controls, editors can quickly manipulate the contrast, opacity, color and texture of their film.
PROGRAIN 4k works on footage up to 4k. This plugin requires Final Cut Pro X version 10.1.2 or newer.
Composites & Elements with ProGrain 4K in Final Cut Pro X
---
4k Cinematic Film Grain
With ProGrain 4K, users can easily add a subtle, or course 35mm grain texture to their footage inside Final Cut Pro X, giving the illusion that their video was chemically processed onto real celluloid film. Film grain is a great way to add style, depth and a cinematic quality to any video.
---
20 Film Stock Presets
ProGrain 4K was professionally designed to emulate 20 popular grain patterns from real celluloid film stocks. From fine to course artifacts, users can select which size, texture, and pattern fits their film style the best.
---
Customize the Grain
After applying a ProGrain preset to their footage, users can customize the look of their grain with the controls in the FCPX Inspector. With easy-to-use sliders and drop down menus, editors can change the texture, exposure, blend mode and color of the film.
---
Designed for Final Cut Pro X
ProGrain 4K was professionally designed to work seamlessly inside of Final Cut Pro X. As a FCP X effect, ProGrain plugins can be dragged and dropped onto any footage up to 4K and previewed in real time without rendering. ProGrain also has easy-to-use controls that can be found in the FCPX inspector, allowing users to calibrate their settings quickly.

Learn how to Install Plugins
.
.
.
.

.
.

.
.

.
.
Additional Information:.
.
How to name motion template folders: Click Here for a Video Tutorial.
.

.
ProGrain 4K Tutorial for Final Cut Pro X
Learn how to add a cinematic look to your footage with the ProGrain 4K  from Pixel Film Studios.
---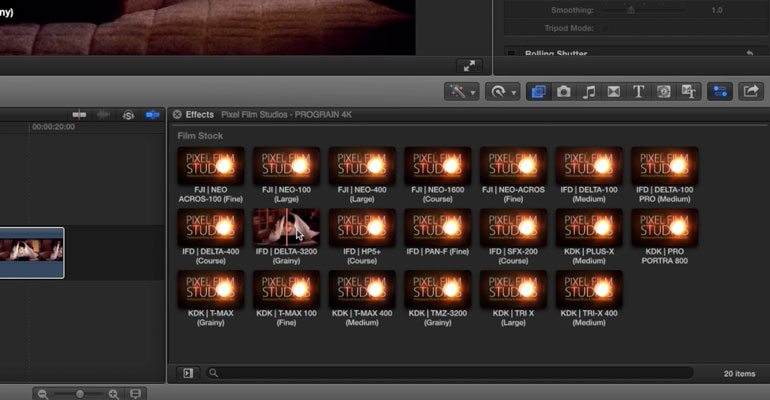 Step 1 - Preparing the Timeline
Let's begin by selecting a clip in the FCPX media library and dragging it to the timeline. Once you have your footage in the timeline, go to the FCPX effects library to locate the ProGrain 4K presets. Scan through the film stocks and select the texture that best matches the look you want. Drag and drop the filter on your clip in the Final Cut Pro X timeline.
---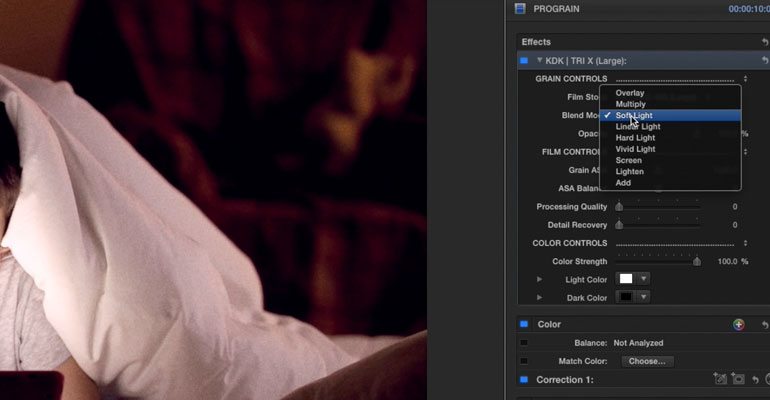 Step 2 - Customizing your PROGRAIN
Once you have applied your film grain, it's time to customize the look of it to work with your footage. Select your clip in the timeline. Use the Grain Controls in the FCPX Inspector to adjust the film stock, opacity, and blend mode. Then use the Film Controls to adjust the Grain exposure, smoothness, and detail. Next, use the Color Controls to adjust the temperature of the film.
---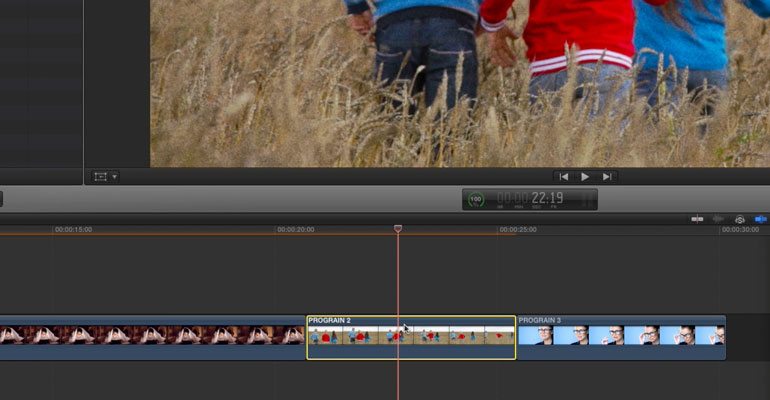 Step 3 - Copying Your Settings
Once you have the film looking the way you want it. You can quickly and easily copy these settings onto the rest of the clips in your scene. Select your original clip in the timeline, and press command, option, c on the keyboard. Then select another clip in the timeline and press command, option, v. Repeat this with the rest of the clips in your sequence.
ProGrain 4K Frequently Asked Questions
---
Where do I find ProGrain 4K?
Once the installation is complete, you can find ProGrain 4K in the FCPX Effect library.