ProHDR
High Dynamic Range Effect
Simulate the HDR processes with any footage using PROHDR from Pixel Film Studios. With this plugin for Final Cut Pro X, you create the high dynamic look that is normally created by combining shots filmed at different exposures. With 50 exposure and color presets to choose from, creating HDR video has never been so easy.
Image Adjustment Tools with ProHDR in Final Cut Pro X
---
Simulate HDR in FCPX
HDR (High Dynamic Range) is an imaging process that stitches together film from multiple exposures to allow for the most detail in both the bright and dark areas of the image. Now you can simulate this process with your film in Final Cut Pro X with PROHDR from Pixel Film Studios.
---
Surreal Photographic Look
HDR imaging is a popular photographic effect that exaggerates contrasts for artistic purposes. By regaining image detail in both the bright and dark areas, you can create surreal and stunning images in your film.
---
50 Preset Exposures for FCPX
With 50 exposure and color presets along with numerous customization options, the possibilities are endless. Create everything from a subtle vintage look to a surreal physcological thriller with PROHDR for Final Cut Pro X.
---
Designed for Final Cut Pro X
PROHDR was professionally designed to work seamlessly inside of Final Cut Pro X. As a FCPX effect, PROHDR plugins can be dragged and dropped onto your footage and previewed in real time without rendering. With easy-to-use controls that can be found in the FCPX inspector, you can calibrate your high dynamic look in a few clicks of a mouse.

Learn how to Install Plugins
.
.
.
.

.
.

.
.

.
.
Additional Information:.
.
How to name motion template folders: Click Here for a Video Tutorial.
.

.
ProHDR Tutorial for Final Cut Pro X
Learn how to control professional high dynamic range effects with the ProHDR Lesson from Pixel Film Studios.
---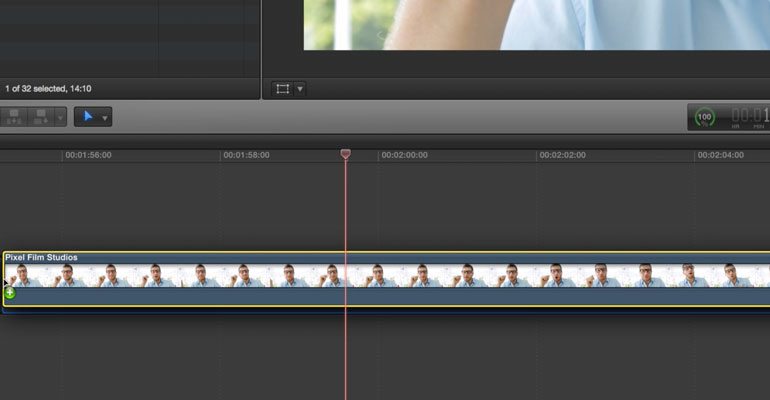 Step 1 - Preparing the Timeline
Let's begin by selecting a clip or image from the FCPX Media library and dragging it to the timeline. Then locate ProHDR in the FCPX effects library. For this example we will be using the ProHDR Action 1 effect. Drag and drop the effect directly on top of your media. Once your Timeline is set up go to the Inspector Window.
---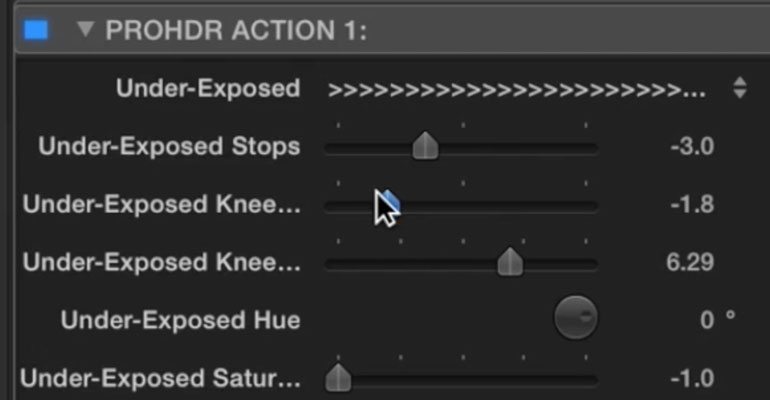 Step 2 - Adjusting Under Exposed Sliders
Next, We will adjust the Under-Exposed sliders. The first slider relates to stops which will make your media darker or lighter. Underneath is the Under-Exposed Knee Low and Knee High. The knee low slider sets the low end of the white and middle gray values in the image, While the knee high slider sets the high end of the white and middle gray values displayed in the image. Then you can adjust the saturation of your previous adjustments using the under-exposed saturation slider.
---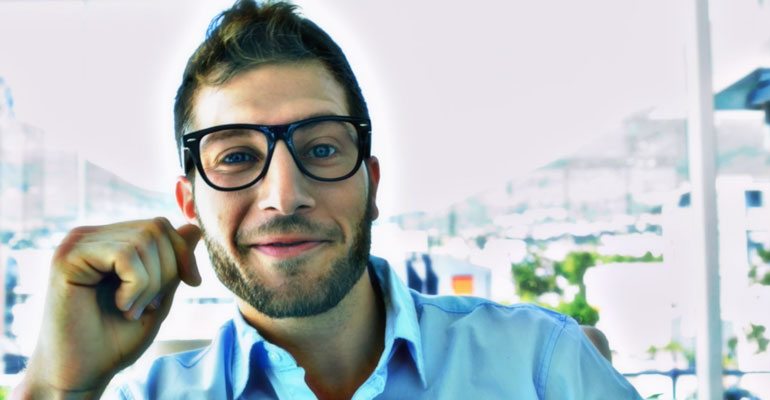 Step 3 - Adjusting Over Exposed Sliders
Now, Let's move down to the over-exposed section. First is the Over-Exposed stops. Move the slider left or right to make the necessary adjustments. Below are the knee low and knee high sliders which act the same as before in the previous section. You can then control the hue and saturation.
---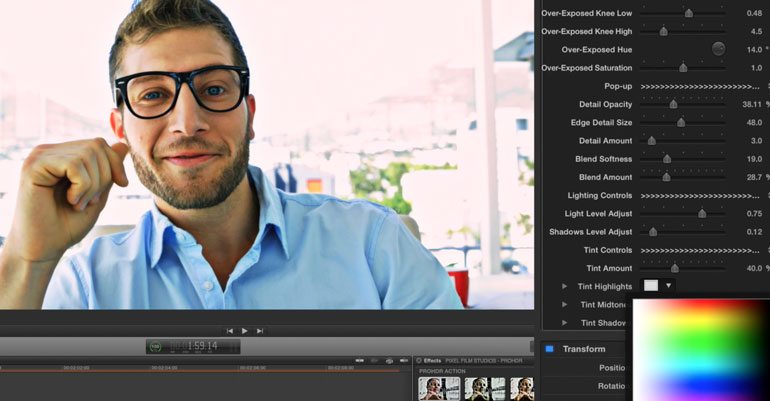 Final Touches
Next is the pop-up section where you can adjust the detail opacity, edge detail, detail amount, blend softness, amount and shadow level. Now for some Final Touches. The tint controls allow you to decide the amount of tint you want to show up in media. You can also choose the tint color of your highlights, midtones and shadows.
ProHDR Frequently Asked Questions
---
Where do I find ProHDR?
Once the installation is complete, you can find ProHDR in the FCPX Effect library.