ProPyro
Fireworks Plugin For FCPX
Pixel Film Studios brings you PROPYRO, the ultimate fireworks plugin for FCPX by Pixel Film Studios. This plugin will give you all the tools you need to compliment any party video, new years show, or sports recap! Easy to use, and will add a new level of excitement to your film in minutes!
Generated Composites with ProPyro in Final Cut Pro X
---
Add Excitement to your film
With ProPyro: Volume 1, add the fireworks youve been looking for to compliment any style of film from sports to a graduation recap! Easy to use, this plugin will have your films excitement level elevated within minutes!
---
Create your style
With multiple options to select from, ProPyro: Volume 1 can help any film maker achieve the look they have been looking for! From Popping multi-colored aerial fireworks, to sparkling fountains, simply select your style, change the blend mode, and change your color scheme!
---
Mix & Match
With ProPyro: Volume 1, change your blend modes so multiple fireworks can overlay each other creating the ultimate pyrotechnics show for your audience! Wow your viewers with all the excitement of a live fireworks show in your film!
---
Designed for Final Cut Pro X
ProPyro: Volume 1 from Pixel Film Studios is designed to work within FCPX. Simply drag and drop the firework effect you want, change the overlaying blend mode, and adjust the colors and animation options within the FCPX inspector window.

Learn how to Install Plugins
.
.
.
.

.
.

.
.

.
.
Additional Information:.
.
How to name motion template folders: Click Here for a Video Tutorial.
.

.
ProPyro Tutorial for Final Cut Pro X
Learn how to use a professional fireworks plugin with the ProPyro Lesson.
---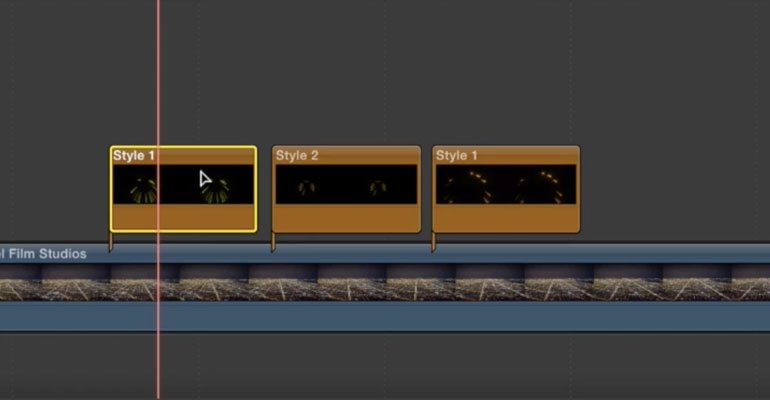 Step 1 - Preparing the Timeline
Lets begin by selecting your media in the FCPX library and dragging it to the timeline. Then locate ProPyro in the FCPX generators library. You can place multiple generators on your media, For this example we will use three generators which will be Style 1 from the Circle Explode section, The Long Pop Trails section and Medium Pop Trails. Drag these generators above your media.
---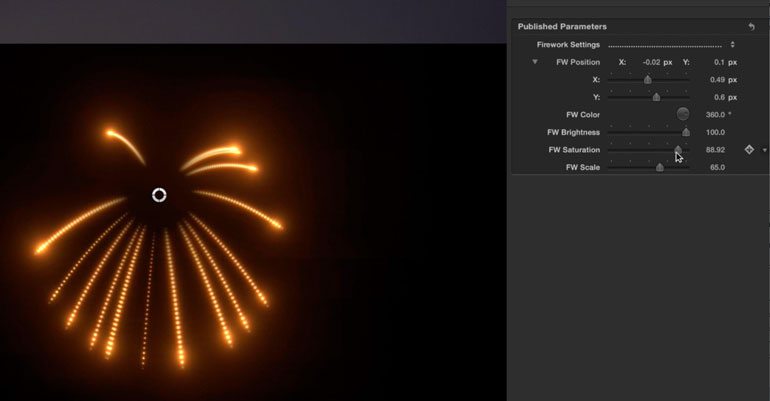 Step 2 - Customizing The Firework
Now, let's customize look of our fireworks. Select the top generator and go to the FCPX Inspector window. The published parameters section allows you to select the position, Brightness, Color, Saturation, Scale and rotation of your firework. After you make the necessary adjustments to your firework select the video tab next to the generator tab. This tab allows you to transform, crop, distort, conform and composite your firework.
---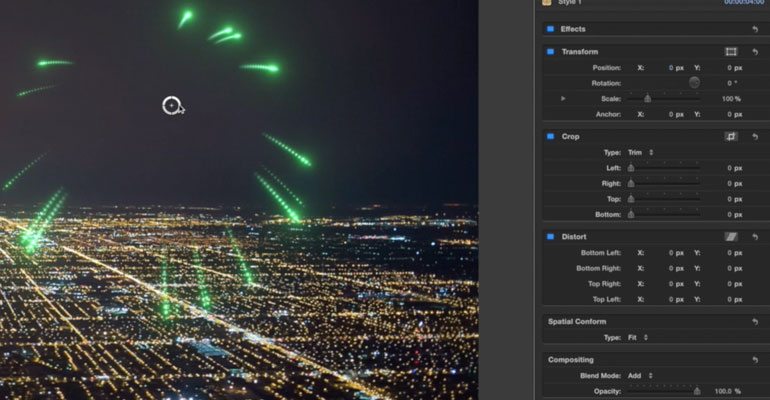 Final Touches
Now for some Final Touches. Let's fine tune a few settings to make our firework look like it belongs in our media. Go to the Compositing Section at the bottom of the Inspector window. We want choose a blend mode that does not take away from our fireworks. The best Blend Modes to use are from Add to Linear Dodge. After you Choose a blend mode you can adjust the opacity to make the firework really blend into your media. Continue that same process for each generator you place over your media and you will have a firework showcase that will be sure to astonish your viewers.
ProPyro: Volume 1 Frequently Asked Questions
---
Where do I find ProPyro: Volume 1?
Once the installation is complete, you can find ProPyro: Volume 1 in the FCPX Generator library.