ProPixie 5K
5K Particle Footage for FCPX
Editors can give their film an epic or magical look by adding hi-res particles to their footage with ProPixie 5K. This collection of 34 clips can be applied to HD or 5K projects in any non-linear editing software. All of the ProPixie 5K clips are looped so that they can be placed side-by-side to create an endless composite.
ProPixie 5K requires Final Cut Pro X version 10.1.2 or newer.
Composites & Elements with ProPixie 5K in Final Cut Pro X
---
5k Particle Footage
ProPixie 5K contains 34 particle clips filmed on the RED Dragon. Utilizing the Dragon Sensor, ProPixie 5K composites have a very high-dynamic range for super detailed particles. These clips work on any non-linear editing software. When editing in an HD project, users can zoom in to the 5K footage without pixelating the particles.
---
Various Focal Lengths
With 34 composites to choose from, ProPixie 5K offers numerous focal length options to work with any shot. Editors can even layer multiple clips to create the illusion of depth in their scene.
---
Create Hyper Real Looks
Whether filming a magical fantasy world or an old haunted house, ProPixie 5K's high-resolution composites can help create the atmosphere of your film in a matter of seconds. Adding floating particles to your footage is a great way to give your film a hyper-real quality.
---
Compositing Tool for FCPX
ProPixie 5K video files can be used in any non-linear editing software, but Final Cut Pro X users can use the ProPixie 5K Tools to help blend and color correct the particles to match any footage. Editors can even invert the particles footage to create an ash look. The Compositing Tool is free with a purchase of ProPixie 5K.

Learn how to Install Plugins
.
.
.
.

.
.

.
.

.
.
Additional Information:.
.
How to name motion template folders: Click Here for a Video Tutorial.
.

.
ProPixie 5K Tutorial for Final Cut Pro X
Learn how to customize 5K particle footage and bring your footage to a whole new level.
---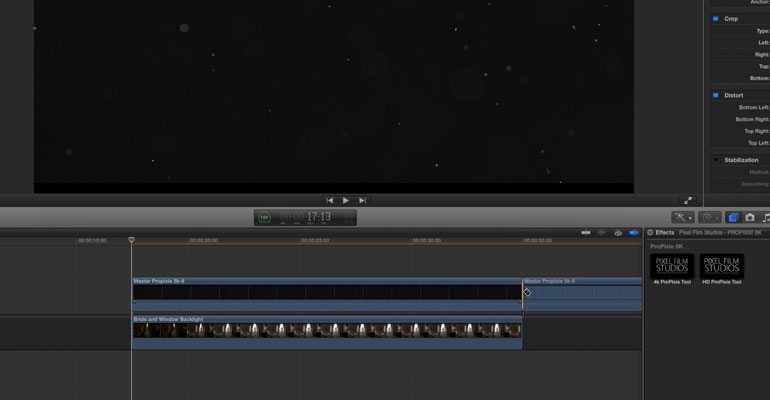 Step 1 - Preparing the Timeline
For this example we will use the 5K composite inside of an HD project, to show that you can zoom in extreme amounts without worrying about pixelation. Let's begin by selecting a clip in the FCPX media library and dragging it to the timeline. Now, scan through the ProPixie 5K composite footage folders. The particles in the ProPixie video files vary in size, speed and focus, so you can layer them to create more depth in your scene. Drag the particle footage above your clip on the Final Cut Pro X timeline. Then, use the blade tool to cut the composites to the length of the clip. Since this is an HD project, FCPX will compress the 5K clip to fit the canvas. So, we will need to change the Spatial Conformity settings. Select the composite clip in the timeline and go to the Inspector window. Scroll down until you find the Spatial Conform drop down menu. Change the Type from "Fit" to "None."
---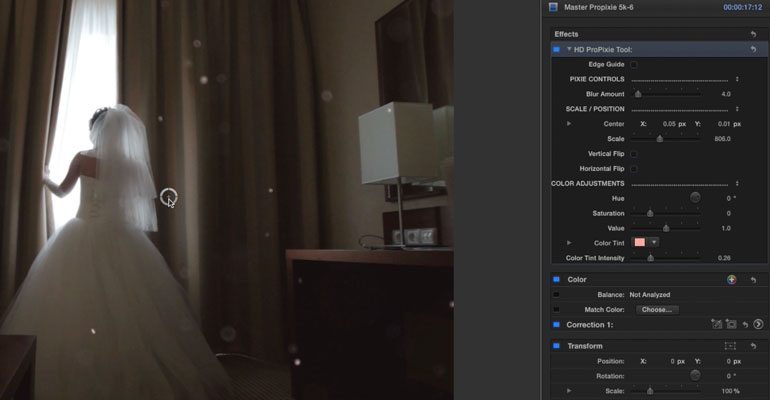 Step 2 - Customizing the Particles
Once you have your clip ready, it's time to blend and incorporate the footage into our environment. Find the ProPixie HD tool located in the FCPX effects library. Drag and drop the effect on to the ProFlare clip. Select the ProPixie layer in the timeline. Use the scale, opacity and color controls to blend the particles into the environment. Then, use the on-screen control puck to position the flare within the scene.
---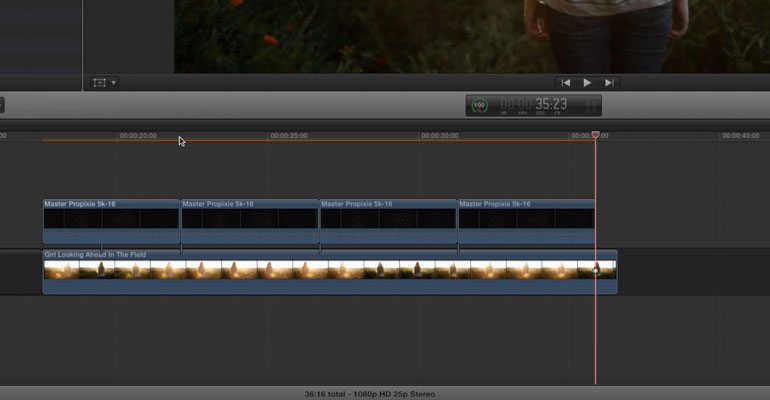 Additional Information
Now for some Additional Information. All of the ProPixie 5K clips are loops, so you can cut and paste many of them side-by-side in the timeline to create an endless composite.
ProGraph: Volume 1 Frequently Asked Questions
---
Where do I find ProPixie 5K?
Once the installation is complete, you can find ProPixie 5K in the FCPX Effects library.
---
Do I need to download all the files?
This plugin is based off of composite footage. In order to have access to all the movie files they must all be downloaded. However they do not need to be downloaded all at once and you can use every movie file you have downloaded.