Pro3rd Basics
Lower Thirds for Final Cut Pro X
Pro3rd Basics is a set of 30 minimalistic lower thirds created for Final Cut Pro X. Pro3rd presets are completely self-animating and easily customizable. Select any preset and drag it on top of media in the Final Cut Pro X timeline. Next, determine the scale, rotate, and position of Basics with intuitive on-screen controls. Utilize lower thirds to introduce people, characters, and locations without having to set a single keyframe.
Basic Lower Thirds with Pro3rd: Basics in FCPX
---
30 Self-Animating Presets
Pro3rd Basics is a set of minimalistic lower thirds that are completely self-animating. Pro3rd presets are completely easily and require no keyframes at all. Simply select a preset and drag it into the FCPX timeline. Next alter the text, colors, and element length settings to achieve the look desired. Pro3rd Basics will do the rest.
---
Intuitive On-Screen Controls
Pro3rd Basics provides video editors with on-screen controls to adjust the scale, position, and rotate of presets within Final Cut Pro X. Clicking the title preset will automatically toggle on the controls. Adjust the puck to control position and pull the ring to manipulate scale. Pixel Film Studios' Pro3rd Basics is both highly functional and intuitive.
---
Simplistic Style
Pro3rd Basics features essential outlines, boxes, and accents to achieve a simplistic yet stylized look. Easily change the color of Pro3rd elements with color swabs and alter the length of thirds with intuitive slider controls. Pro3rd Basic is the perfect complement to any Final Cut Pro X production.
---
Final Cut Pro X Exclusive
Pro3rd Basics is completely customizable in Final Cut Pro X. Look toward the top-right of FCPX's interface to locate intuitive parameters controls that are used to tweak the style of Pro3rd presets. Control the color, length, and width designs with color wheels and sliders respectively. Pixel Film Studios makes amazing easy in FCPX.

Learn how to Install Plugins
.
.
.
.

.
.

.
.

.
.
Additional Information:.
.
How to name motion template folders: Click Here for a Video Tutorial.
.

.
Pro3rd™ Basics Tutorial for Final Cut Pro X
Learn how to create your very own professional lower thirds with the Pro3rd Basics Lesson.
---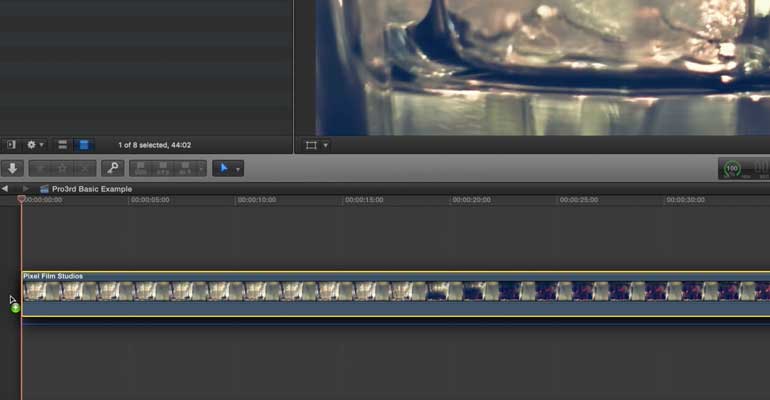 Preparing The Timeline
Let's begin by selecting our media from the FCPX Media library and dragging it to the timeline. Then locate Pro3rd Basics in the titles library. Browse through the lower third presets. For this example we will be using Preset 1 left. Drag and drop the preset over top of your media. Select the preset adjustment layer and go to the Inspector Window.
---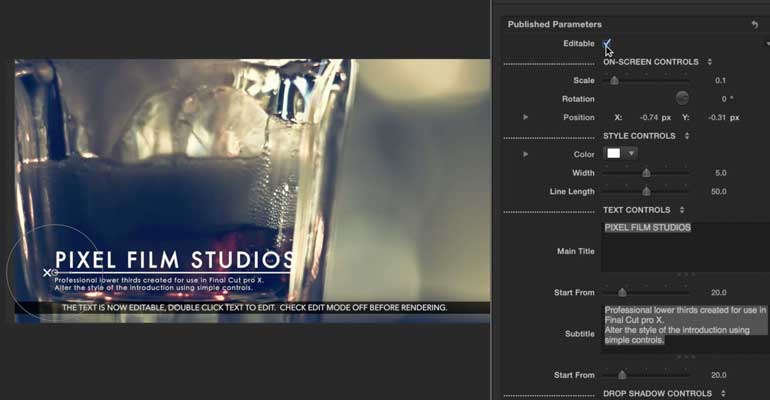 Published Parameters
First you will notice an Editable checkbox. When selected you can then edit the text by double clicking the text in the viewer window. You will be notified in the viewer screen whenever this option is selected. Be sure to uncheck the editable checkbox before you render. Next we will go over the on-screen controls. You can adjust the scale, rotation and position using the controls int he inspector window or you can use the on-screen controls in the viewer window. Scale your lower thirds by clicking and dragging the outside of the circle. Click and rotate the pin sticking out from the center control puck in a circular motion to adjust rotation. To position the lower third, Click and drag the center control puck.
---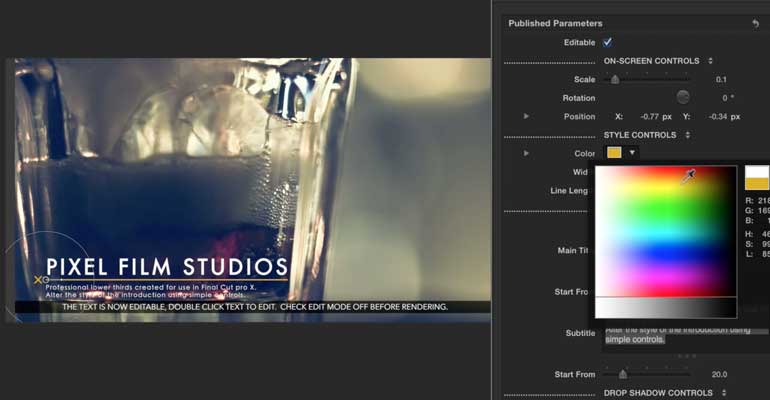 Style Controls
Once you have your lower thirds set go down to the Style Controls section. This section makes adjustments to the line that is present in your lower third. Start by selecting a color. Then adjust the width and line length. Next go on to the Tex Controls.
---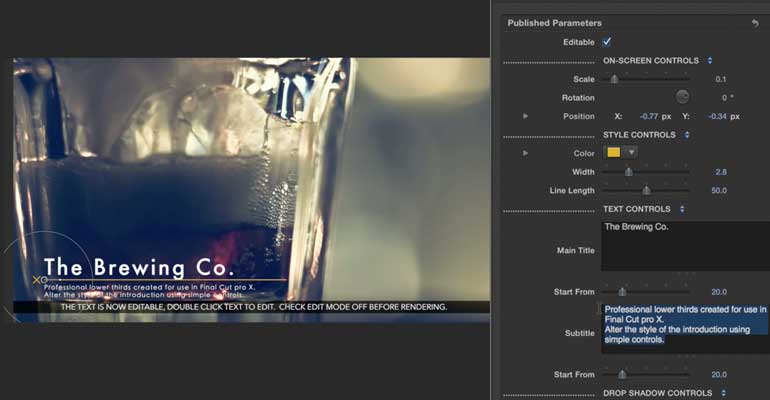 Text Controls
Begin by altering the text in the Main Title and Subtitle text boxes. After you can choose when your main title and subtitle will animate in. You can do this by adjusting the Start from sliders.
---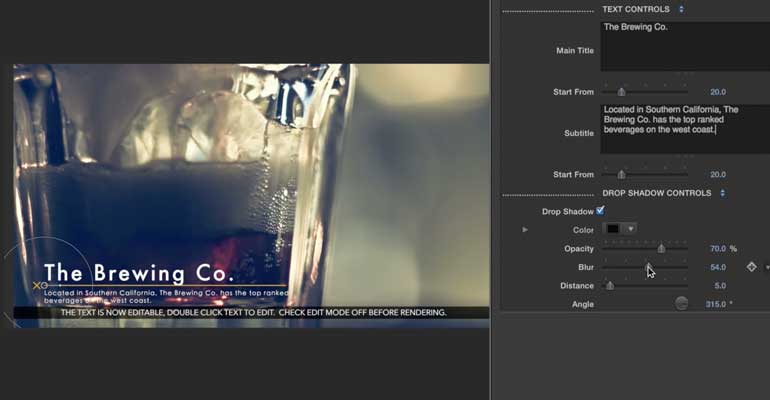 Final Touches
Now for some Final Touches. Go down to the Drop Shadows Control section. First adding a drop shadow is optional. If you do not want a drop shadow simply deselect the Drop Shadow check box. If you decide that you do want a drop shadow you can start by choosing a color. Then you can adjust the opacity, blur, distance and angle.
Pro3rd: Basics Frequently Asked Questions
---
Where do I find Pro3rd: Basics?
Once the installation is complete, you can find Pro3rd: Basics in the FCPX Title library.