ProFlare
Professional Light Leaks for FCPX
Easily add beautiful, epic, or vintage lighting to any footage in FCPX with ProFlare by Pixel Film Studios, a collection of over 150 professional light leak effects. Simply drop one of ProFlare s effects on to your clip and adjust the user friendly controls to change the orientation, movement, color, flicker, and opacity of the light.
Lens Flare Effects with ProFlare in Final Cut Pro X
---
 
Unique Light for Any Scene
With our extensive collection and customizable settings, ProFlare by Pixel Film Studios can create the light leak you want for any scene.ProFlare has several different light leak categories to choose from (including: color light leaks, lens flares, sun flares, and DJ light leaks).
---
Moving and Powerful Effects
Dropping one of ProFlare's FCPX effects on to a clip can turn any footage into a moving and powerful moment. Light leaks are a great way to give your film a hip, edgy, or vintage feel.
---
Professional FCPX Flares
Using numberous lens and film techniques, all of the light effects in ProFlare were professionally made to give your FCPX footage a real and natural look. ProFlare light leaks really look like they were captured in the lens of your camera, and not digitally created.
---
Customize your ProFlare
The intuitive controls in the ProFlare plugin make it easy to change the look of your light leak inside FCPX. Simply adjust the sliders in the Final Cut Pro Inspector and see your changes appear in real-time. The movement and flicker features allow for ProFlare light leaks to even work on moving camera shots.

Learn how to Install Plugins
.
.
.
.

.
.

.
.

.
.
Additional Information:.
.
How to name motion template folders: Click Here for a Video Tutorial.
.

.
ProFlare Tutorial for Final Cut Pro X
Learn how to create and customize your very own professional light leaks by watching the ProFlare Lesson.
---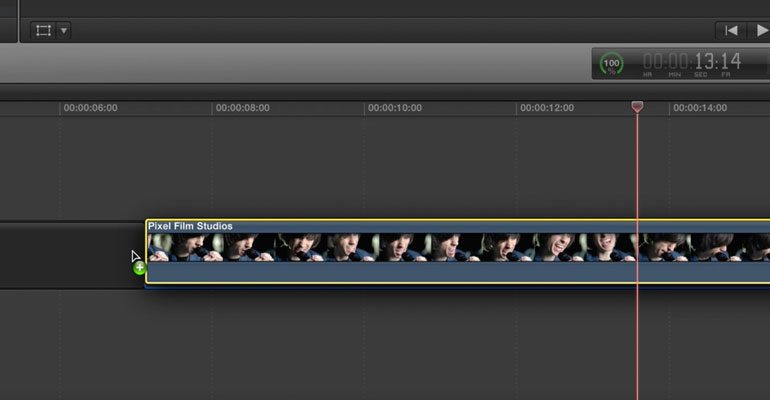 STEP 1 - Preparing The Timeline
Let's begin by selecting our footage from the FCPX media library and dragging it to the timeline. Then locate ProFlare in the FCPX Effects library. Browse through the variety of light leak presets and choose a style that works best for your project. For this example we will be using the DJ Light Leak 13. Click and drag the preset directly on top of your media and go to the Inspector Window.
---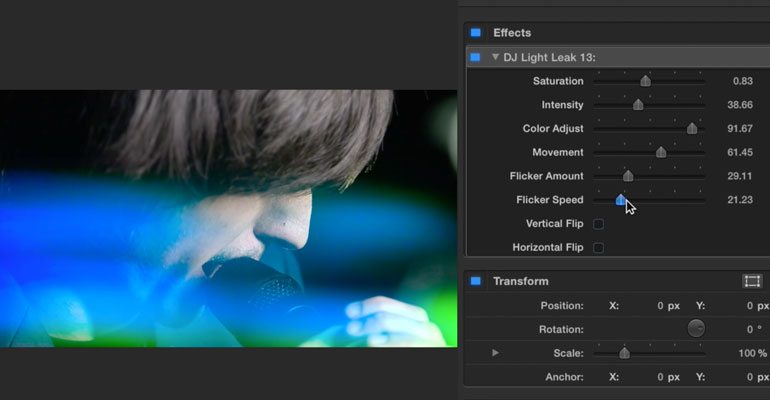 STEP 2 - Effect Controls
First start by adjusting the saturation and intensity sliders. Then go on to the color adjust and movement slider. The Color Adjust slider will cycle through different color combination when moved left or right. The movement slider will position your color combination left or right. Next is the Flicker amount and flicker speed sliders. Adjust these sliders according to how fast or slow you want the light leak to be flickering. Lastly you can flip the light leak vertical or horizontal by selecting the desired check box.
---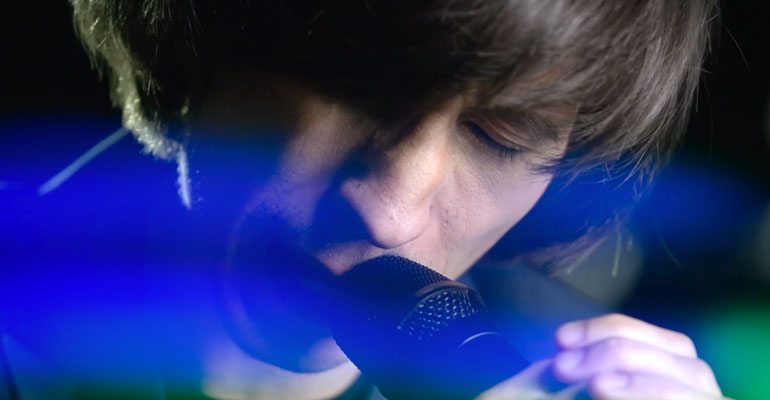 Finished Example
ProFlare has a variety of different presets which gives FCPX users endless possibiltites.
ProFlare Frequently Asked Questions
---
Where do I find ProFlare?
Once the installation is complete, you can find ProFlare in the FCPX effects library.
Troubleshooting ProFlare
---
How do I customize the look of PROFLARE?
Once you have apply ProFlare to a clip… Select the clip in the timeline. You will see a new set of parameters in the FCPX Inspector. Use these parameters to control the look of the ProFlare effect.
---
I am getting a Red Screen with a Yellow Exclamation Point, how is this fixed?
This usually occurs due to either an Installation error, or its just that your FCPX version is out of date. You can upgrade, its simple and usually free in the Apple App Store. If your operating system is out of date, that may need to be updated first, in order to update the other relying software.
---
What Version of FCPX does this require?
You will need to make sure your version of the software is updated to at least version 10.2.1, and this may require an OS update, which should be available for free in the App Store.